In a profession known for hierarchical structures, L'Effervescence has young chefs at its helm. In this interview, we talk with Head Chef Hayato Hirose and Pastry Chef Nagisa Aoki about how they work with and nurture their young chefs in and outside of the kitchen.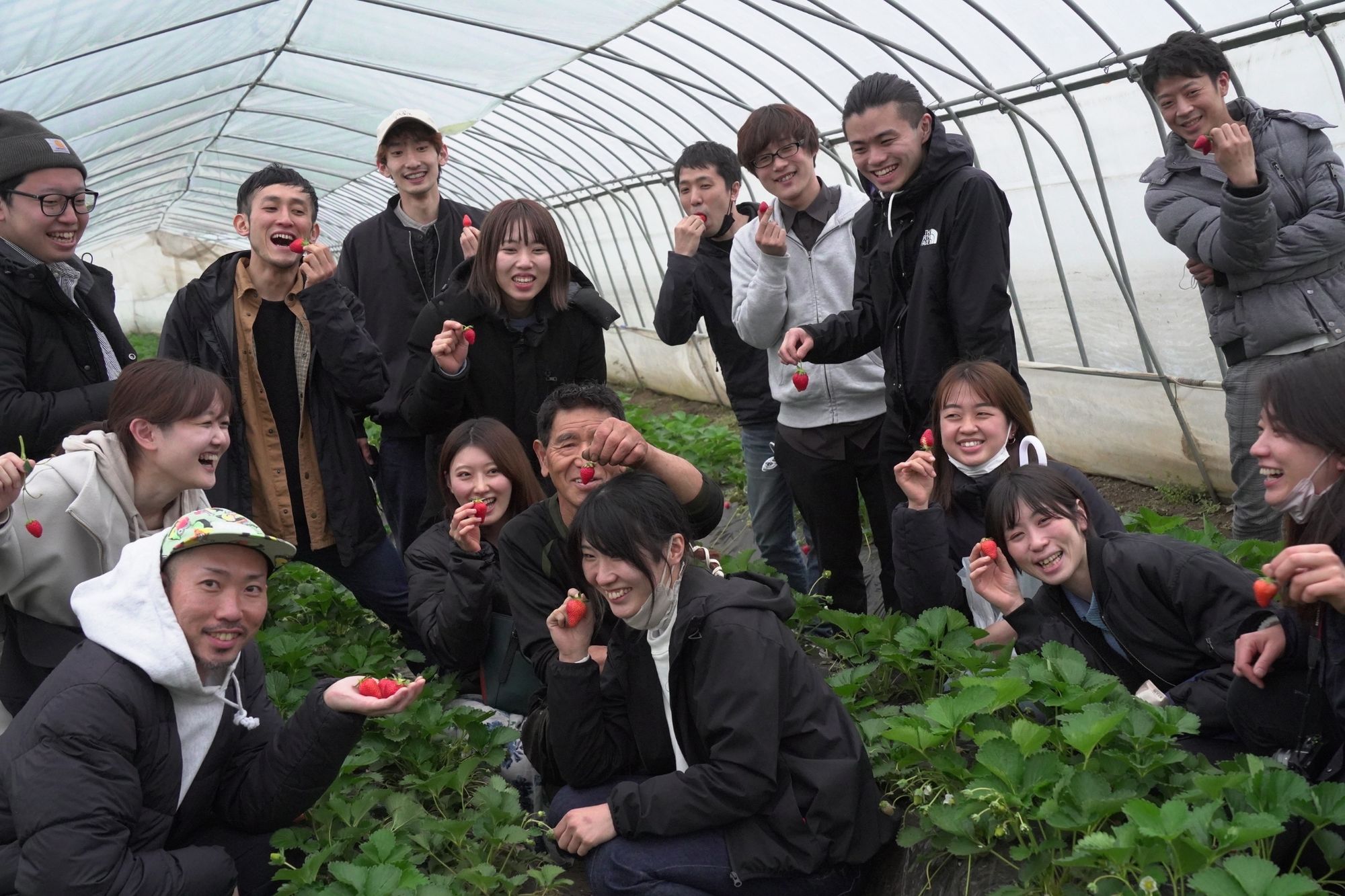 In November 2021, L'Effervescence, a restaurant in Nishi-Azabu, Tokyo, was awarded both three Michelin stars, as well as a Michelin Green Star for the second consecutive year. Under the leadership of Executive Chef Shinobu Namae, the team, who work closely with producers across Japan, has grown beyond the sense of a restaurant cooking food and welcoming guests, but spreading its philosophy that younger generations are following. However, if you were to peer inside the kitchen at L'Effervescence, you may be surprised to find that it is run by young staff.
For this interview, we talked to Head Chef Hayato Hirose, and Pastry Chef Nagisa Aoki, both in their 30s, who are in charge of the kitchen of L'Effervescence, to talk about the restaurant's unique and unified staff culture.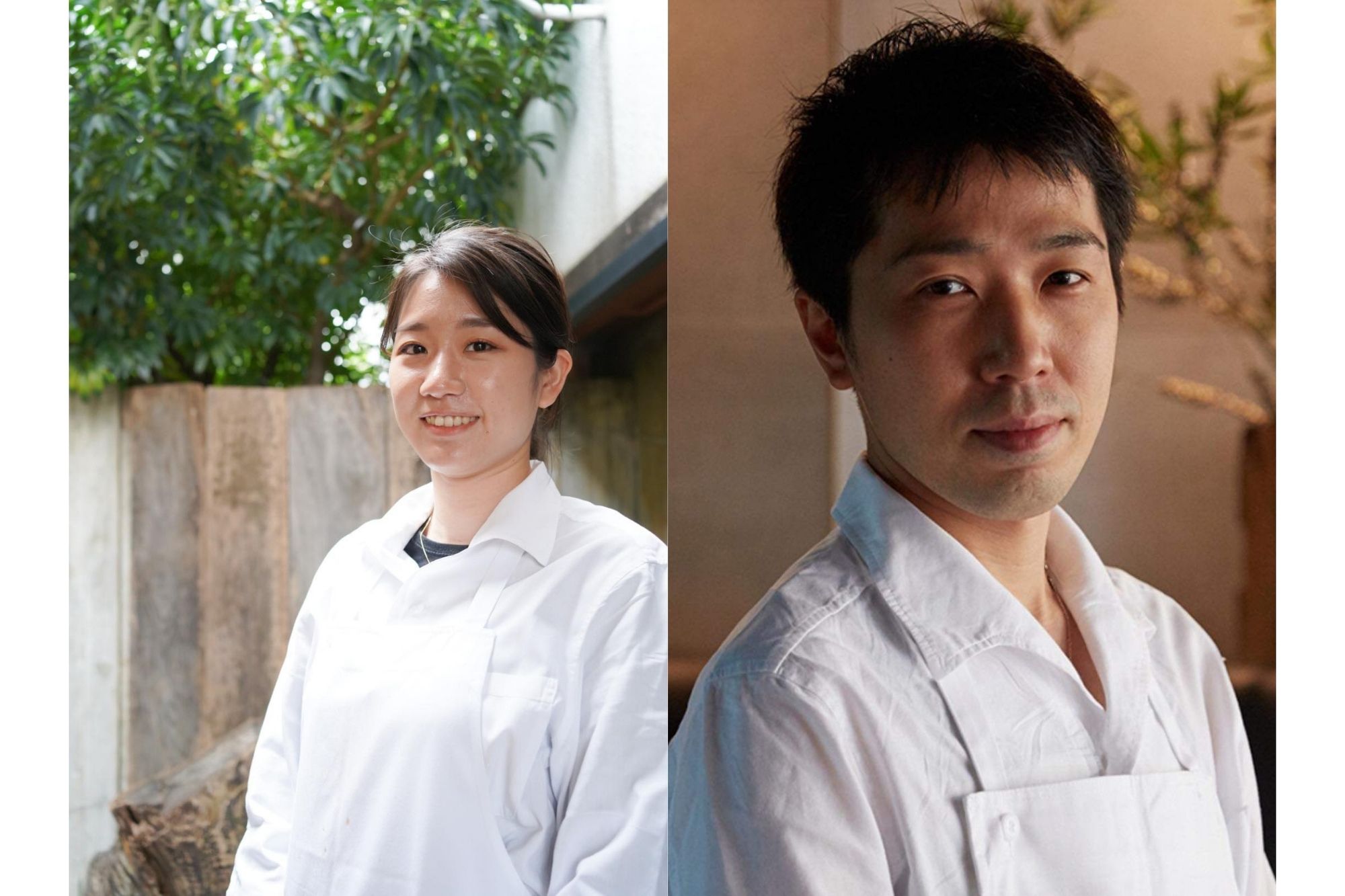 Can you explain your roles in the restaurant?
Hirose: To put it simply, I would say that I am the kitchen director. I create dishes with Namae-san, I share them with the staff, and execute a plan for the dishes. My role is to evolve the restaurant on a daily basis and keep it moving forward.
Aoki: My main role is to create desserts. Since Namae respects the pastry chefs' ideas, I am the one who decides on the ingredients and composition of the desserts we serve. And then Namae tastes each dessert before finalizing the recipes to make sure that they are the best they can possibly be.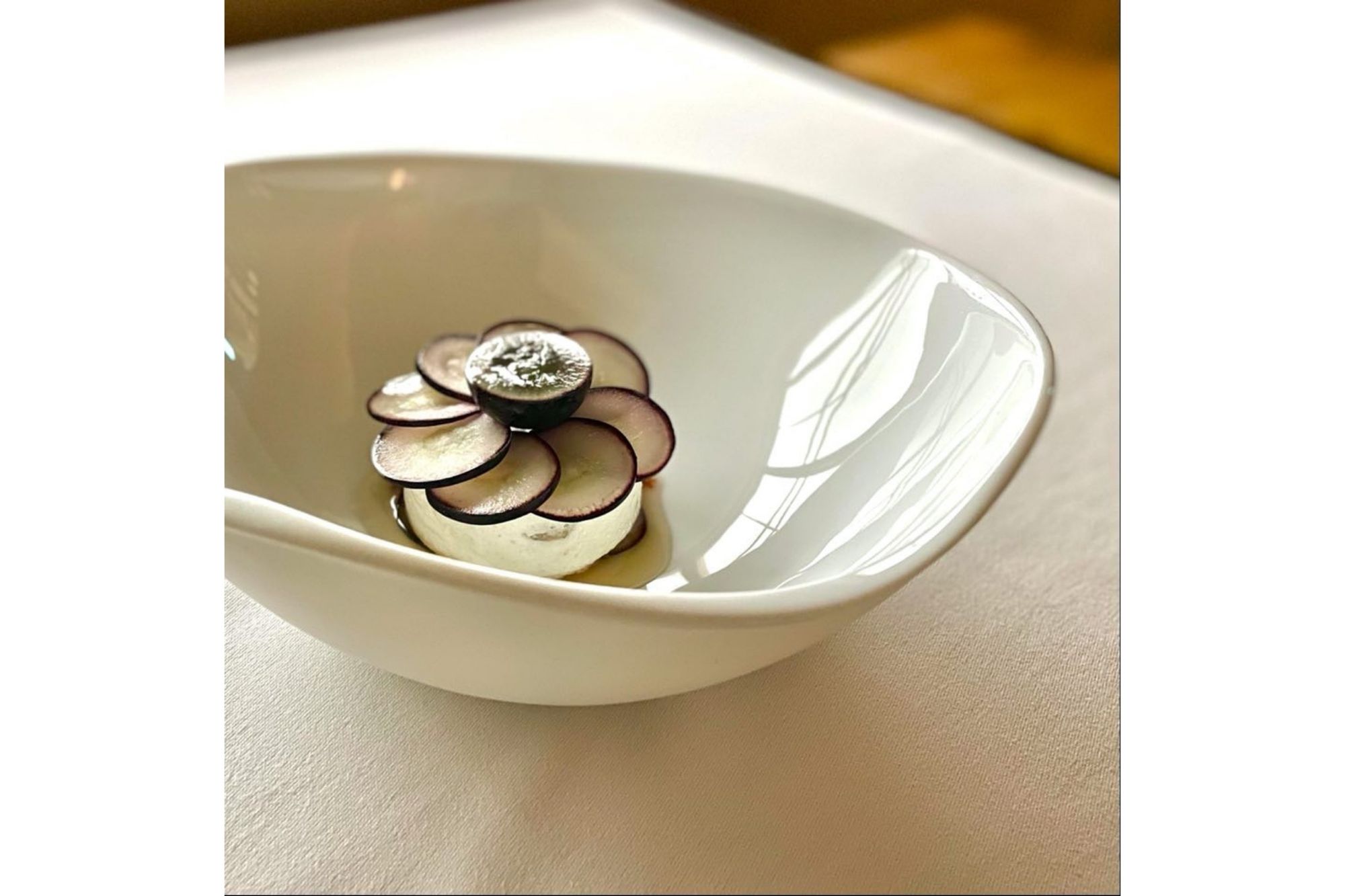 It could be a challenge for such a young team to maintain high quality in every detail. What is your process for preparing and serving dishes?
Hirose: The dishes I create with Namae must be served at the same high quality even when the restaurant is fully booked. It is impossible for a single person to handle this volume of work, so we divide the kitchen team into divisions, where each division has its own chef. Before serving, I check every dish and tell the division chefs what I think could be improved, so that everything comes out to the ideal level. Even then, I am careful not to make it a one-way communication. For example, let's say we are working on a vegetable dish, and the dish that one of our chefs prepared is a 7 out of 10, a step short of the ideal. In such a case, I try to give them advice to bring the work closer to the restaurant's ideal, while taking into account the chef's intention of how they want to do it.
While many restaurants have the head chef in front of the stove, it is Namae-san's belief that the most senior person in the kitchen should be the one in charge of plating, the last stage of the process. You see, when younger staff are in this role, if they notice something is wrong, they may find it hard to be direct with the head chef or other senior staff and the dish is served as is to the customers. Our process came about from this way of thinking.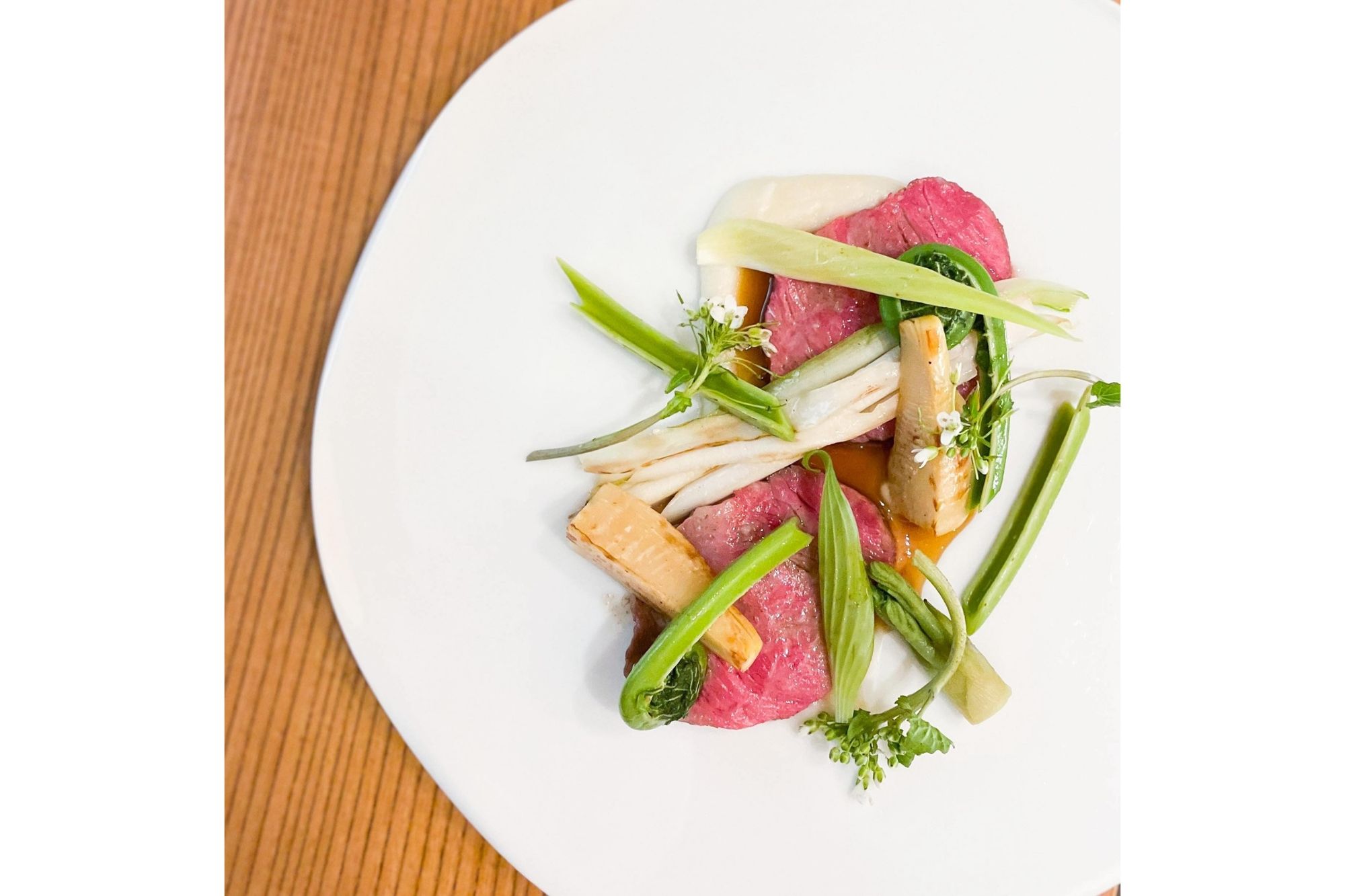 I imagine it is important to find the right team members. How do you recruit for the kitchen team?
Hirose: I am responsible for hiring staff for the kitchen team, including pastry chefs, though I listen to Aoki's opinion in that case. Since the kind of team members we work with influences the restaurant, I want to evaluate the essence of each candidate, not just their title or skills. So we rarely hire someone immediately, but rather have them work onsite as part of their training to see if they are a good fit for our restaurant, and our restaurant is a good fit for them.
I think it is because I am entrusted with this kind of hiring process that we are all able to work together toward the same direction.
What do you keep in mind when creating your desserts?
Aoki: What I focus on the most is to bring out the best features of the ingredients produced by the farmers. When I joined L'Effervescence, Namae taught me not only dessert-making techniques, but also how to approach cooking and how to think when creating something, which broadened my horizons. So now, my goal is to create desserts that are not only beautiful or astonishing, but also convey the producer's passion behind the desserts, without straying too far from the quality of the ingredients themselves. To achieve this, it is essential to know the personality and thoughts of the producer.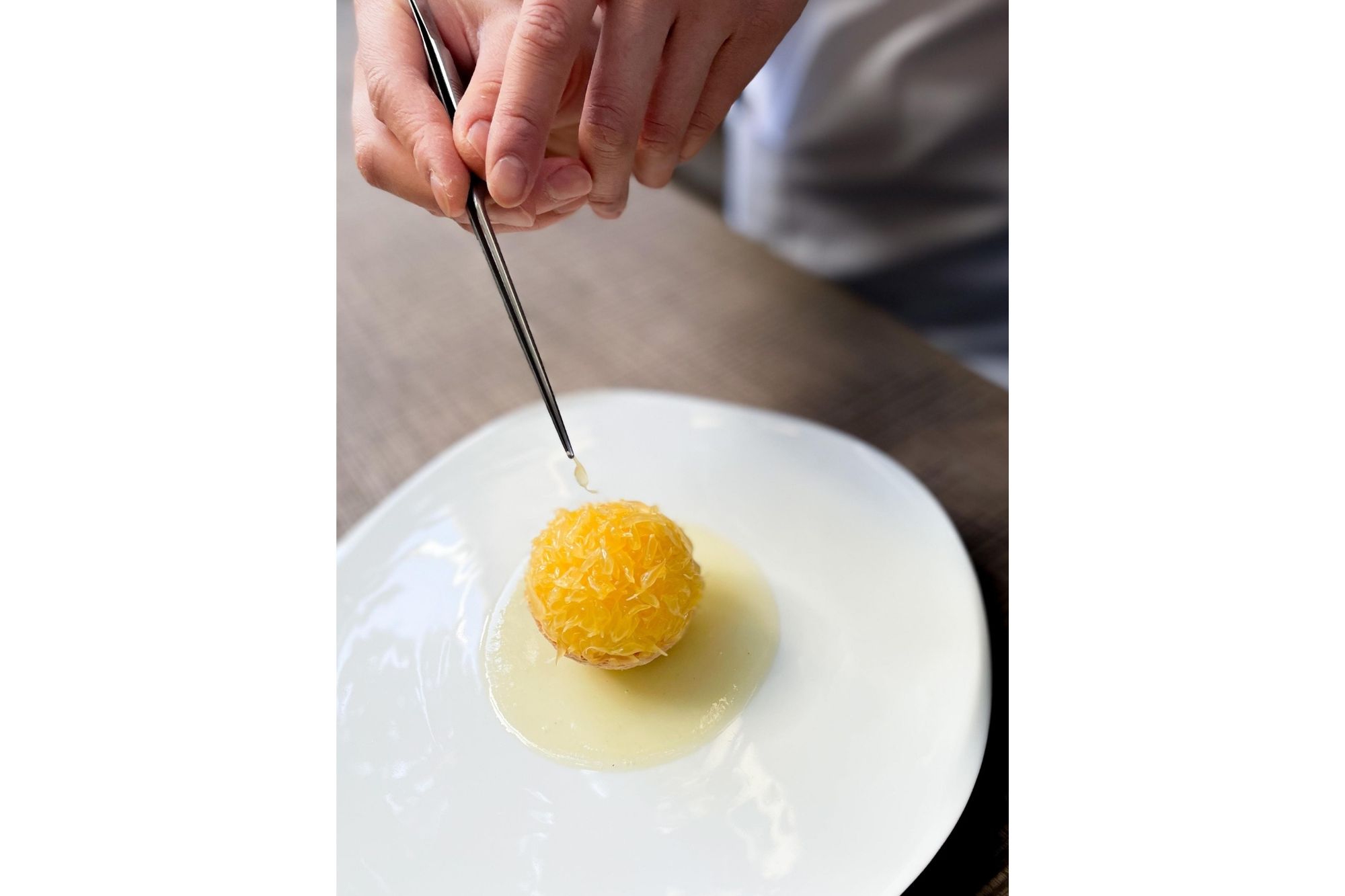 We heard that you both order ingredients from producers yourselves. Why do you do it instead of leaving it to someone else?
Hirose: I believe that ingredients are the most important part of creating a dish. It is the ingredients that allow us to cook. I discover new things when communicating with producers about orders, such as what vegetables are in season each year, as the weather is slightly different every year. So, I try to handle ordering as much as possible.
I also enjoy talking with the producers so much – instead of just placing an order, I would like to stay in touch with them as much as possible. Ideally, I would visit the producers frequently, but with the current situation due to Covid, it's not easy to do so. So I want to at least call them.
Aoki: I consider ordering to be an important opportunity to connect with producers who trust us. As well as feeling responsible by placing the order myself, I enjoy doing it as part of my job because I get to tell the producers what our customers say about their produce or simply chat with them over the phone. That communication cheers me up.
Is there anything in particular that has left a lasting impression on you in your interactions with producers?
Hirose: Each interaction is memorable, as I always make new discoveries and learn from producers whenever I contact or visit them. Particularly, though, I remember when we visited Moroi Brewery, the producer of shottsuru, Japanese fish sauce. They told us that they were wondering how to get people to know about shottsuru. After the visit, we decided to offer a bottle of shottsuru as a gift to our customers on their way home, and the producers were very pleased with it. I feel fulfilled when something like that happens.
Aoki: For me, it was when the faxes we sent to strawberry farmers somehow turned into love letters. There was a period of many mishaps, such as the strawberries we ordered not arriving, which was partially because the farmers were elderly and it was hard for them to keep up with all the orders. So we started trying to make our order forms – which are sent by fax – stand out by decorating the paper with messages in the margins. The farmers started sending us handwritten replies along with the strawberries. We were so happy that we kept it up, and the volume of replies gradually got larger and larger, and one time we even received whole strawberry seedlings still in its soil. Before we knew it, our orders had become a kind of letter exchange (laughs).
What other things do you keep in mind as you work as a team to build up the restaurant?
Hirose: Because we are a big team, there is sometimes not enough communication during work. So I try to create opportunities to talk with the staff after work and on days off. I cherish this time as it is when I can chat with the staff and when the younger and newer ones come to me with questions about the food.
Aoki: In the dessert division, I try to give advice to each chef which helps them learn to make the right decisions by themselves. As ingredients and service change on a daily basis, I believe that assembling these individual skills will give us strength as a team. I also try to communicate closely with service staff who are new graduates, as they have the important role that connects the kitchen and the dining room, carrying the dishes to customers.
Hirose: We used to visit our producers all together as a team, but due to COVID, we haven't been able to. We finally got to do it again, for the first time in a long time the other day, and everyone in the kitchen team came along even though it was a holiday because we were all dying to visit them (laughs). Also, our staff members often go out to eat together on our days off. I think we get along well with each other because we all share the same values.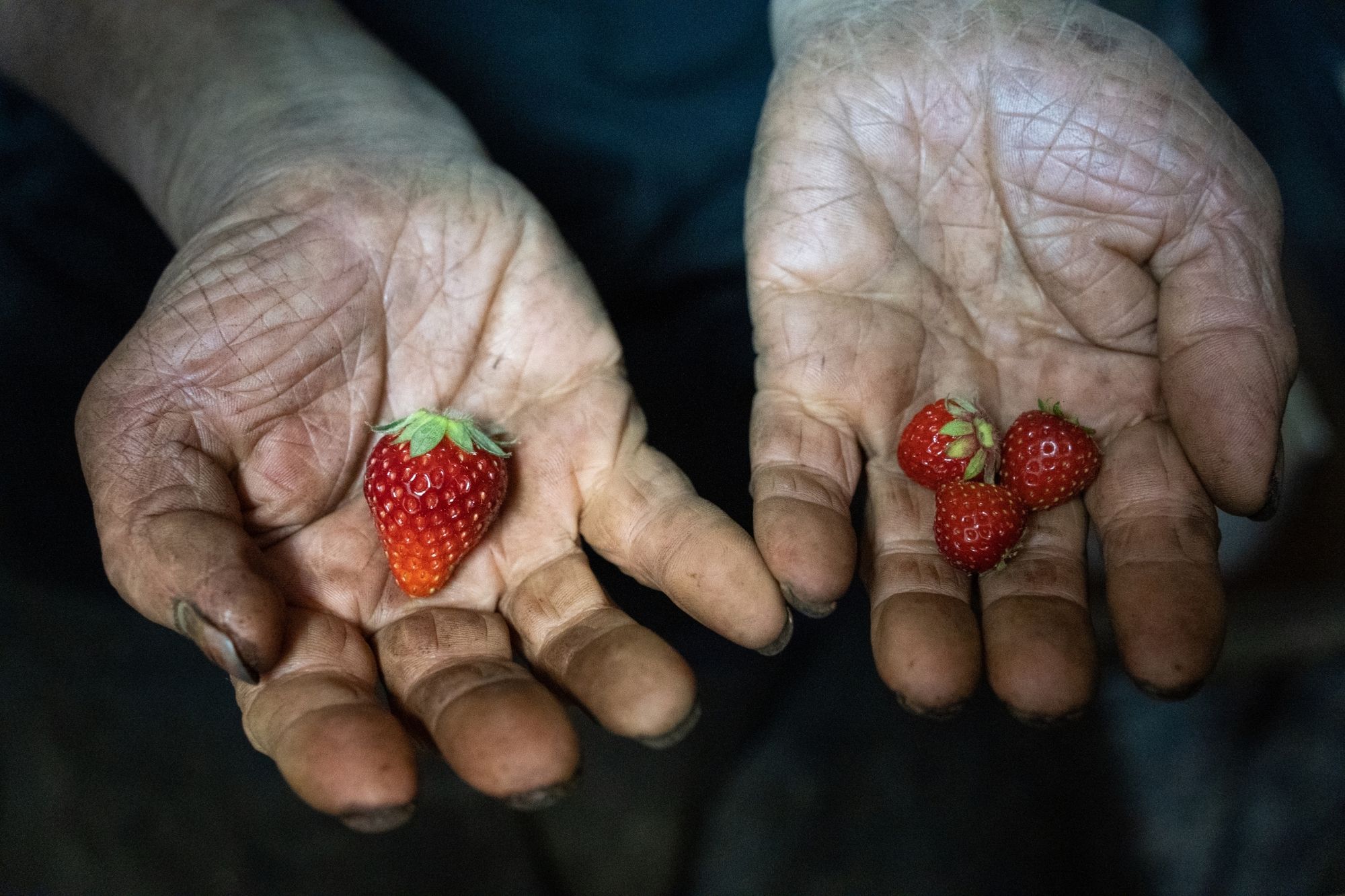 Have there been any changes in the way you approach or think about cooking after the Coronavirus disaster?
Hirose: I have come to work with a sense of urgency, and not take for granted that many customers come to our restaurant. I felt that we cannot survive in the future without thinking flexibly and unconventionally as chefs, as we do not know what the future holds.
Aoki: I began to consciously focus on creating dishes with a sophisticated appearance and taste. During our first closure during the pandemic, we decided to renew our restaurant to take advantage of this time. However, we chose not to make any major changes to the main desserts in terms of their position in the course or their presentation. How could we enhance the quality of desserts inline with the overall renewal of the course, without making major changes? This was much harder than imagined, and we really learned a lot.
What are your goals for the future?
Hirose: Now that the long-time staff have reached a milestone in their careers and graduated, and there are a growing number of young staff in the team, my goal for the next year or two is to improve the skills and mentality of the team.
Aoki: For the dessert division, I would like to create an environment where each member can enjoy the fresh ingredients and express themselves in their own way, because it is very valuable that we can work directly with the producers. I want to create opportunities for each of them to think for themselves and give shape to their ideas, whether it be in the form of staff snacks or mignardises (bite-sized desserts served at the end of a meal).
On a personal level, my goal is to continue working as a pastry chef for the rest of my life. This hasn't changed since I was 18. No matter what life stage changes I may face in the future, I would like to carry on with many options that are uniquely my own. At the same time, I hope that taking on challenges in this way will lead to more opportunities where women can play an active role in society.
Finally, how would you describe Chef Namae to each of you?
Hirose: He has ideas that I don't have, and he is a constant source of inspiration to me. I think that is why I have been able to enjoy working at L'Effervescence for as long as 10 years.
Aoki: He teaches me about important things, deeply. I am still learning from him the importance of having a strong heart, kindness, and purity of mind through desserts
From Chef Shinobu Namae

After hearing their story, we wanted to know how they both appeared to Chef Namae, so we asked him about them.
What kind of chefs are Hirose and Nagisa, from your point of view?
Namae: Hirose is a really gentle guy; he is very reliable with his work and preparations. Aoki has a natural talent. I'm sure she has her concerns, but I hope she will mature with experience in the current environment where she can enjoy the luxury of using fresh ingredients.
Listening to Hirose and Aoki, we get the sense that L'Effervescence is a restaurant that values the producers, but what are your thoughts on this, Namae?
Namae: If you look back in history, people needed food to survive. So it was normal for people to acquire it themselves, cook it, and eat it. As the world became more affluent, the acquisition of food became externalized and jobs were divided into various tasks.
But even if the work is divided, we can still understand each other's feelings, can't we? We want to remember the joy of acquiring food, and we feel this connection by visiting our producers. We want to value the relationship we have with the producers, as well as those with our employees and customers. It is important that we care about each other as human beings, beyond our position, and we would be delighted if you could feel this through our food and the atmosphere of our restaurant.
Profiles
Hayato Hirose
Born in Gifu Prefecture. After training at a French restaurant in Nagoya for 6 years, he moved to Tokyo and worked at NARISAWA for three years before joining L'Effervescence. He is currently working as the head chef of the kitchen.
Nagisa Aoki
Born in Tokyo. After working as a patissier at the Palace Hotel Tokyo for five years, she joined L'Effervescence with the desire to create desserts for restaurants. She is currently working as a pastry chef.
Shinobu Namae
Born in Kanagawa Prefecture. While in college, he studied political science and wanted to become a journalist, but he changed his mind and became a chef. He is currently the executive chef of L'Effervescence and also a graduate student at the University of Tokyo, where he is researching the ideal of cuisine and food in society beyond the restaurant.
Interview & text by Yuri Nagashima, Yusuke Tanaka
Photos by L'Effervescence & Yusuke Tanaka
Co-Edit by Takeshi Okuno
Translation by Riho Matsumaru