This risotto celebrates the sweetness of new rice season, combining it with bursts of salt and nutty brown butter.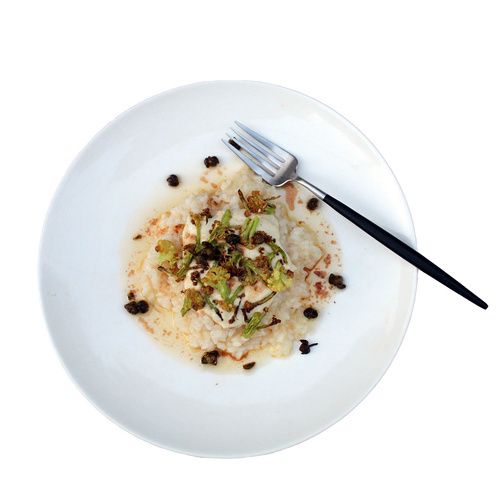 Shinmai & Cauliflower Risotto

Risotto
2 tbsp oil
2 tbsp butter
1 onion, finely chopped
1 garlic clove, minced
40ml shiokoji
20ml white miso
1L hot water
250g rice
Cauliflower cream
125g cream
150g cauliflower
salt
Sweetened brown butter
80g butter
2 tsp hon mirin
salt
Crisp flowering cauliflower florets
1 cup flowering cauliflower florets
olive oil
salt
Deep-fried capers
Capers
Polenta, masa or semolina
Oil, for frying
1. To make the risotto, heat oil and butter in a large frying pan over a medium-low heat. Add onion and garlic and cook until translucent, about 10 minutes.

2. Whisk the shiokoji and white miso into the hot water in a jug and set aside. Keep warm.

3. Add the rice to the frying pan and stir well to coat all grains in oil. Add 1/4 cup liquid and stir until it is absorbed. Continue adding liquid in this way until all liquid is used, adding a little hot water if necessary to get the rice tender and consistency right. It will take about 30 minutes.

4. To make the crisp cauliflower florets, heat an oven to 200C. Break the florets into even smaller pieces, about 1cm wide at the top. Toss with olive oil and salt, then lay on a baking tray and roast for about 20 minutes, until crisp and the tops are dark golden.

5. To make the cauliflower cream, combine all ingredients in a saucepan with a lid over medium heat. Bring to the boil, then immediately reduce heat to a simmer and cook until the cauliflower is tender. Remove blend to a smooth puree.

6. To make the sweetened brown butter, put a medium frying pan over medium heat. Add butter and cook until it turns nut-brown. Add the mirin and a sprinkle of salt and remove from heat immediately.

7. To make the deep-fried capers, prepare a small bowl of masa or semolina. Pat-dry the capers with paper towel and set aside. Heat 1cm-deep pan of oil over high heat. Coat capers in masa then add to the pan. Cook until the capers turn crisp and golden, about 1-2 minutes. They might open a little like flowers.

8. To assemble, spoon hot risotto onto a plate. Top with creamed cauliflower, then drizzle over brown butter. Finish with a sprinkle of crisp cauliflower and capers.