When things get hot, sake labels get hotter.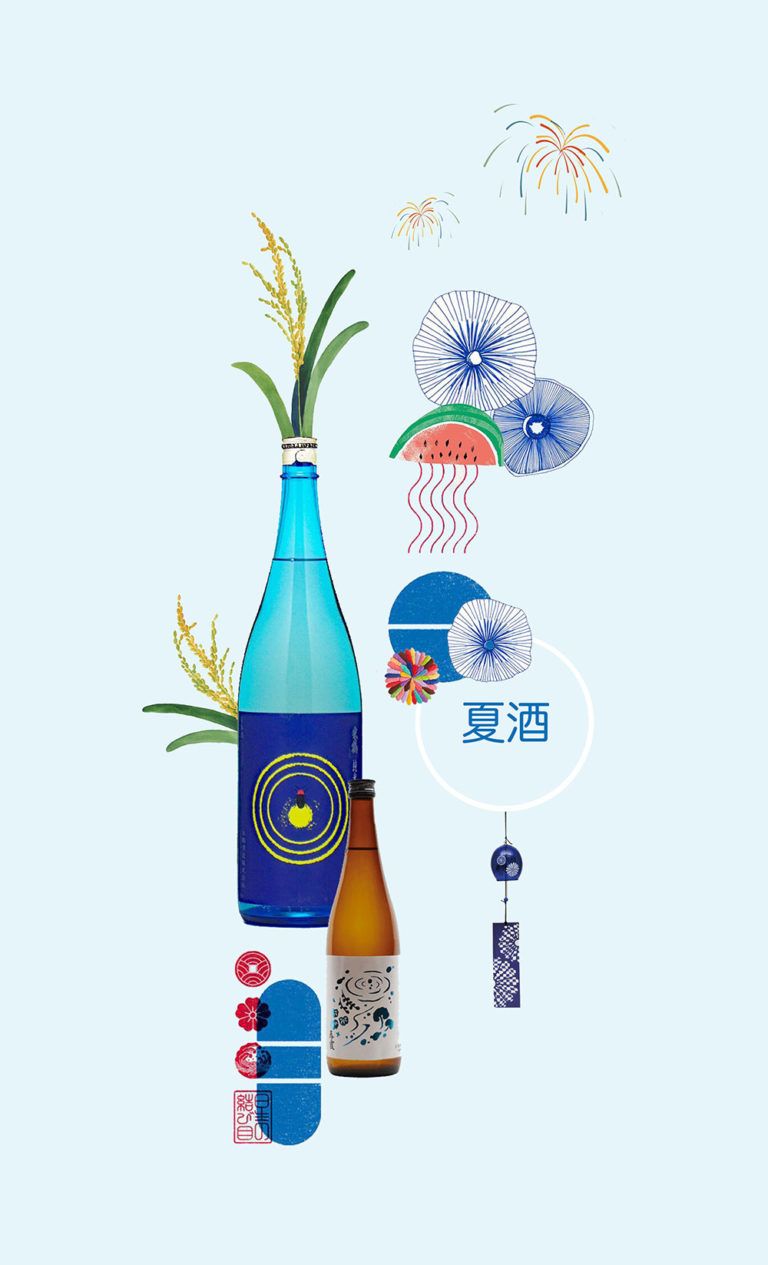 Natsuzake (summer sake) are seasonal sake released each year in Japan from late May-July. They're brewed to be like a cool breeze sweeping over you, to assuage the heat and humidity that engulfs the country at the time: they're crisp and clean, light-bodied, and refreshing. The labels of these limited releases are a canvas for the season, evoking the nostalgia and frolics of summer in Japan.
Natsu Hanabi Junmai (Mitobe Shuzo)
Skies light up across Japan during July and August for hanabi (fireworks displays), providing a welcome distraction from all-consuming heat and humidity. These community events practice has been around since around the Edo period, with both large-scale fireworks, where thousands picnic in yukata by the banks of a river; and self-administered backyard fireworks.
Tokujiro Tokubetsu Junmai Sake (Joyo Shuzo, Kyoto)
For the label of their natsuzake, Joyo Shuzo wanted express a classic image of a Japanese rural summer landscape, a perspective too easily forgotten in the bustle of modern urban life. The scene is one of rice fields enveloped by mountains and idyllic nature, with a remarked calmness to it.
The label is the designer's first sake label, and was chosen by Joyo Shuzo for that reason – to have creative reign free from traditional label preconceptions. This elegant sake is characterized by distinct umami and fruit aromas of melon and muscat, balanced sharp acidity and a crisp finish.
Yonesturu Natsu Junmai Hotaru Label (Yonetsuru Shuzo, Yamagata)

Fireflies dance on the night air surrounding Yonetsuru brewery between mid-June and July. Known in Japanese as 'hotaru' these beloved incandescent nocturnal beetles, with a kanji that denotes 'lantern insect', are iconic to the landscape of summer in Japan; they conjure up a romantic, nostalgic feeling. Hotarugari – firefly-viewing – is a common summer pastime.
This sake comes with the serving suggestion of being poured over a few large ice cubes. It's light and smooth with refreshing high acidity, designed to be "enjoyed casually, without thinking too deeply" – just what is needed for languid summer evenings.
Iwaki Kotobuki Natsu Gin Junmai Ginjo (Suzuki Shuzoten Nagaigura, Yamagata)

Wagara are traditional Japanese patterns, many dating back to the 8th century Heian period. They designs are for specific seasons and occasions, and are often inspired by nature. This particular pattern, known as 'shippo', evokes a feeling of refreshment – the reason is often used to decorate kiriko (traditional Japanese cut glass).
The label's color scheme is both cooling, and a nod to the popular flowers, Morning Glory (asagao), which come to bloom in summer and adorn bright green vines with petals of indigo blue. The sake has a fresh taste, juicy mouthfeel and refreshing acidity.
Harugasumi Tanbo 'Rice Field' & Harugasumi Wakimizu 'Spring Water' (Kuribayashi Shuzoten, Akita)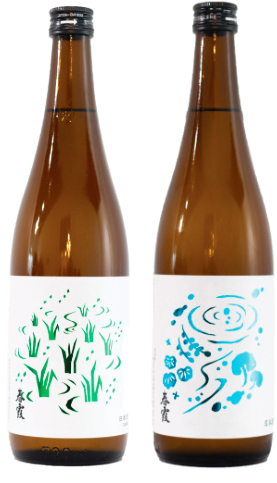 This pair of natsuzake show iconic elements of the Akita prefecture terrain, where Kuribayashi Shuzoten is located. The rice field label, released for early summer, depicts the verdant, spritely young rice plants that decorate the landscape after planting season. This sake is clean and dry – just what is needed during the humid weeks of June. The spring water label, released in late summer, reflects the abundant spring water settings of the region – a refreshing image for when heat fatigue draws on. This sake has a reinvigorating sweet-and-sour quality. The labels were designed by a local artist, who first visited the brewery to observe the surroundings and atmosphere, to meet the workers, and to taste the sake.
Junmai Daiginjo Tatenyan vol.6 (Tatenokawa, Inc., Yamagata)

Tatenyan is a stray cat who settled in the Tatenokawa brewery. She has kept the workers company for many years, and become a cherished member of the team. As a tribute to her, Tatenokawa launched an eponymous sake series, with each label showing whimsical scenes of Tatenyan to capture her soft, spirited nature.  The sake type and label scene differ slightly for each release.
"We wanted a label that captured the cuteness of Tatenyan and the feeling of summer," says Tatenokawa President, Junpei Sato, of Junmai Daiginjo Tatenyan vol.6. The sake is slightly dry, with gentle acidity, and a refreshing finish.
Oyama Galaxy Tokubetsu Junmai (Kato Kahachiro Shuzo, Yamagata)

"The label for sake is like the plating of a dish, it has important implications for how you consider what you are eating or drinking," says Yoshiaki Kato of Kato Kahachiro Shuzo, who designed the label of the Oyama Galaxy summer release.
With that in mind – combined with a fondness for drawing fantasy constellations – Kato created a cooling galactic vista to transport drinkers to a more chilled state of mind. The sake has a soft character and fruity fragrance, gentle umami, best enjoyed between 3°C and 10°C.
Tedorigawa Summer Dry Junmai (Yoshida Shuzoten, Ishikawa)

Yoshida Shuzoten has a seasonal series that uses the same rice and rice-polishing ratio for each release, but with different methods of processing the sake after pressing. The Tedorigawa Summer Dry Junmai is a 'namacho' sake, meaning it's pasteurized once – after storage, before shipping – to preserve its distinctively dry, fresh and vivacious qualities.
The label is cooling and luminous, a depiction of the river that flows by the brewery glowing with the light of fireflies. "In July, beautiful fireflies hover in the coolness of the Hotarugawa river, creating an impressive landscape," says Yasuyuki Yoshida, Executive Vice President and Head brewer of Yoshida Shuzoten.
'Summer, I Love You' Tokubestu Junmai Nama (Amabuki Shuzo, Saga)

Summertime fun is the prerogative of both this sake and its label. Amabuki's 'Summer, I Love You' release is crafted to be something you want to drink on a hot day, with a label that pops with bright, light, good-time vibes.
Watermelon are symbolic of summer in Japan, both as a refreshing snack and as a pastime—sukawari is a traditional Japanese game that involves splitting a watermelon with a stick while blindfolded. This is a dry sake with rich umami, designed to be easy to drink on its own or with any seasonal fare.
Natsu Yago Blue (Izumibashi Shuzo, Kanagawa)

"You can feel the image of summer rice fields", says Izumibashi Shuzo of their Natsu Yago (Summer Dragonfly Larvae) sake label. Dragonflies are treasured in Japanese culture—in ancient times, Japan was also known as 'Akitsushima', 'Island of the Dragonflies'. The flooded rice paddies of summer are the natural habitat for dragonfly larvae, making the two inseparable. The iridescent blue of the label is one that "gives you energy and that shines in the summer sun".
Yago Blue is a dry sake with the powerfulness of nama genshu (undiluted raw sake). Because of the higher alcohol content, it also works well on the rocks or with a soda-water mixer.
Meikyo Shisui Nihon no Natsu (Osawa Shuzo, Nagano)

This is the 10th edition in Osawa Shuzo's 'Meikyo Shisui Japanese Summer Series'. Each year, the label illustrates a scene from the childhood summer of head brewer, Minoru Osawa, and is designed to evoke a similar sense of soothing nostalgia for the imbiber.
'Meikyo shisui' is a Japanese idiom for having a 'clear and bright state of mind', which is reflected in the clean, refreshing quality of this sake. Its subtle aroma and taste makes for easy summer drinking, and can be matched with a variety of cuisines. "The most important thing is to enjoy it," says Osawa.