By Ellen Freeman
(Tamales image) Photography Jake Lindeman
(T-shirt image) Malena Foyo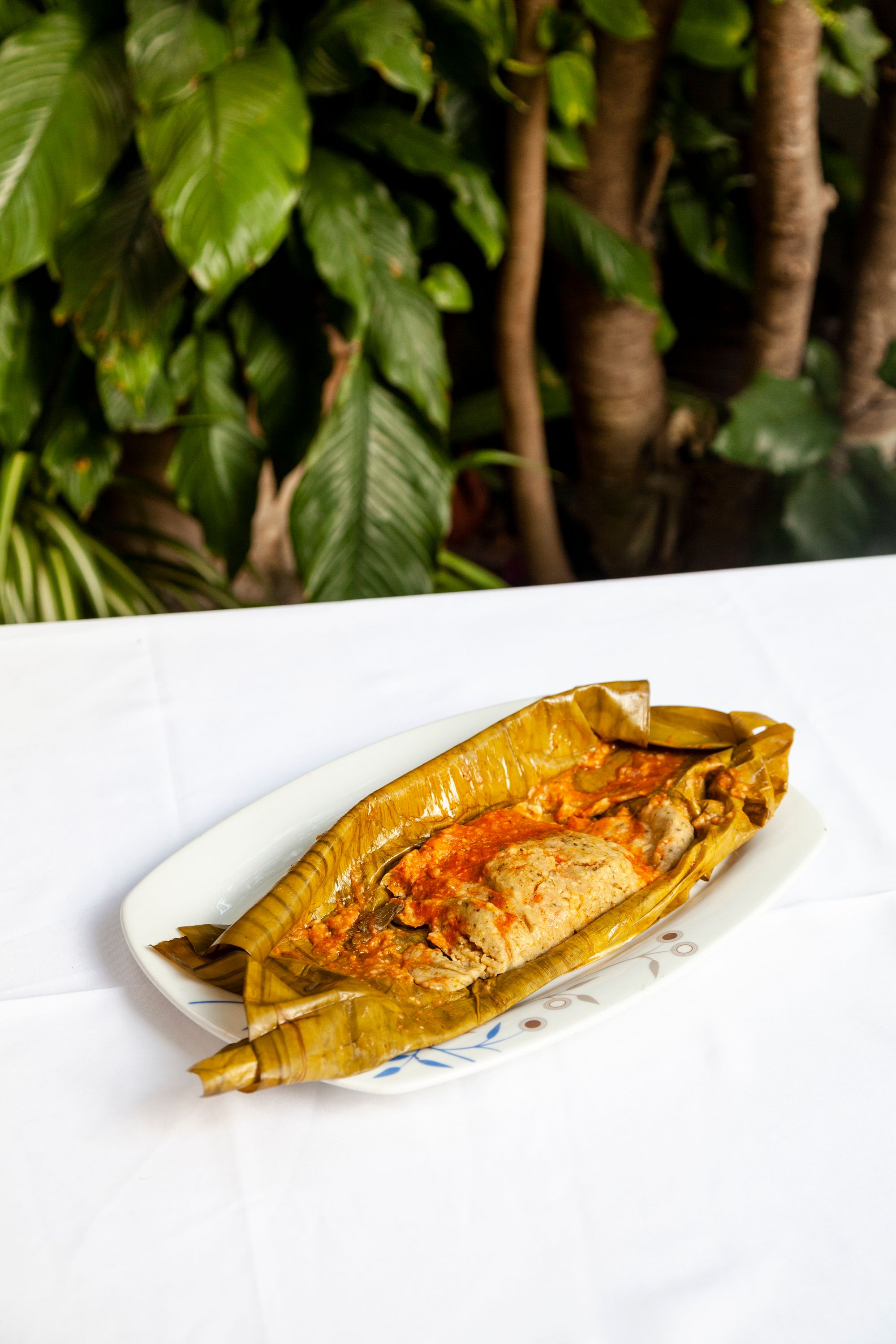 Mexico City's morning alarm is the scratch-swoosh of the street sweeper's broom before dawn. Then, the garbage collector rings a handbell like his arm is going to come off, and the gas-tank filler joins in with a chorus of "gaaaaas", drawn out so that it loses its consonants and is almost indistinguishable from the water jug seller's "aguaaaaa". In the afternoon, the soundscape flips to the knife sharpener's pan flute trill, the organ grinder cranking out a warped melody that rushes and lags at the same time, the junk collector's call for mattresses and scrap metal – a mournful wail that makes dogs howl from rooftops.
Street food vendors cut through the cacophony, announcing their wares in a code that speaks straight to the stomachs of chilangos (people from Mexico City): the ding of a triangle means oblea wafer cookies; the bicycle peddling pastries and instant coffee arrives with the awooga of a clown horn; the roasted sweet potato cart lets off steam with a long, lonesome whistle.
The city's dinner bell, though, is the call of the tamales oaxaqueños vendor, who pedals his tricycle loaded with pots full of Oaxaca-style tamales up and down the street after sundown. It begins as a faint buzz in the distance, a recording of a man's voice looping the same strange incantation over and over, the sound seeming to come from a tin can at the bottom of the ocean. It grows louder and more nasal as it comes closer until it passes underneath my open window, then fades again as he pedals away. Imagine an American ice cream truck playing Scott Joplin's "The Entertainer" or a Japanese roasted sweet potato truck's "oishii yaki-imo" sing-song—except in Mexico City we hear the tamales oaxaqueños call every night, all year long. It's a rhythmic drone like a Zen Buddhist monk chanting a sutra, a pledge of allegiance that every chilango can recite by heart:

"Ya llegaron sus ricos y deliciosos tamales oaxaqueños. Acérquese y pida sus ricos tamales oaxaqueños. Hay tamales oaxaqueños, tamales calientitos."

"Your tasty and delicious Oaxacan tamales have arrived. Come and get your delicious Oaxacan tamales. Oaxacan tamales, nice n' hot tamales here!"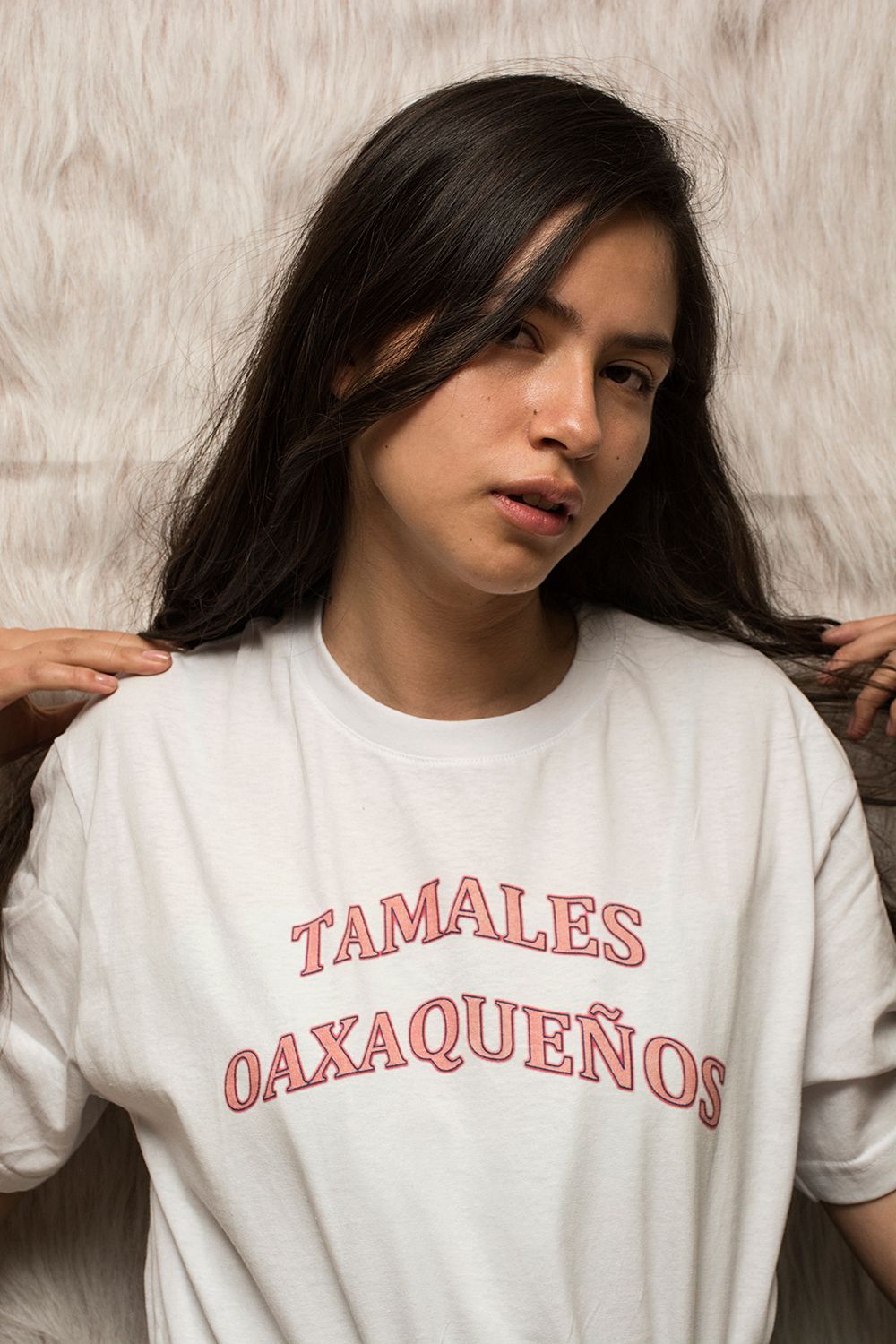 Tamales oaxaqueños are a 14-Mexican-peso (63 yen) present wrapped up in a banana leaf, an ancient Mesoamerican food once offered to gods. They're portable, filling, and the banana leaf unwraps to become a biodegradable plate. Steamed inside is a rectangle of corn dough called masa , stuffed with green chilis in tomato sauce, pork in red salsa, or chicken in green salsa, or mole (traditional Mexican sauce). "When you're eating a good oaxaqueño, you get a layer of masa and then the filling inside, and another layer of masa, like you're eating a thick lasagna," says chef Arturo Sosa, a Oaxaca native who teaches visitors to Mexico City how to make tamales oaxaqueños.
Homemade tamales are a party food emblematic of the Christmas season: on Three Kings Day (January 6th), families share a rosca de reyes, a ring-shaped "king cake" with a tiny plastic baby Jesus figurine hidden inside. Whoever gets the baby Jesus is supposed to treat everyone to tamales a month later on Candlemas (February 2nd). The rest of the year, tamales are a cheap snack you grab from the corner in the morning, or crave late at night when that distant call comes just at the right time.
The tamales oaxaqueños call has become such a ubiquitous part of Mexico City's background music that newspapers tracked down the original voice. Elías "Charlie" Zavaleta recorded it in the early 1990s when he was 17 so that his tamale-selling uncle wouldn't get hoarse, and it worked so well that the cassette got passed on or sold from vendor to vendor. An anonymous face with a celebrity voice, he now sells tacos in Mexico City's Polanco neighborhood. He doesn't make a penny from his recording, but in a 2009 interview with the Mexican blog Letras Libres, Zavaleta said that when he hears it, "I'm glad, because many people eat from my voice."
Tamales oaxaqueños have crossed from cuisine to music and fashion; they've been remixed into cumbia songs and immortalized on T-shirts. Designer Malena Foyo says that her Tamales Oaxaqueños t-shirts are her best-sellers, because the sound is "something that people hate and love at the same time; it's annoying but it makes you laugh." My favorite iteration is a meme: a video of Prince Harry when he was in the military, giving an interview in an airplane hangar. In the original video, he hears some kind of siren, rips off his mic, and runs off camera; in the meme, the siren is replaced by the tamales oaxaqueños call.

I wanted to ask my local tamales vendor how he feels about the auditory aspect of his job. Is it always stuck in his head? Does he hear it in his dreams? But as soon as I actually wanted to hear "come and get your hot tamales'', it seemed to vanish. As I'm writing this, Mexico City has gone into self-imposed semi-lockdown to stop the spread of COVID-19 coronavirus, and with all social plans cancelled, I've had nothing to do in the evening except sit on my balcony, straining my ears for the tamales oaxaqueños. I heard it only twice in the last three weeks, but in the harried dash to find my keys, shuffle my feet into shoes, and run down five flights of stairs two-at-a-time, the vendor had pedaled off into the night.
I don't know for sure whether the sudden absence is because of the pandemic. Mexico is a country where many people cannot afford to stop working, and if the tamales oaxaqueños vendor is at home, I hope he's at home by choice. Lots of familiar street food vendors have disappeared from my neighborhood. The city's usual volume has been turned down. The only time I remember this kind of quiet was in 2017, after the earthquake. Silence is the sense I remember most vividly; first, silence when the power went out, then, silence when closed fists in the air – a signal for quiet – rippled through crowds of volunteer rescuers so that they could hear people trapped under the rubble calling for help. I knew the city was coming back to life the first night I heard the tamales oaxaqueños.