Photos by Sherry Zheng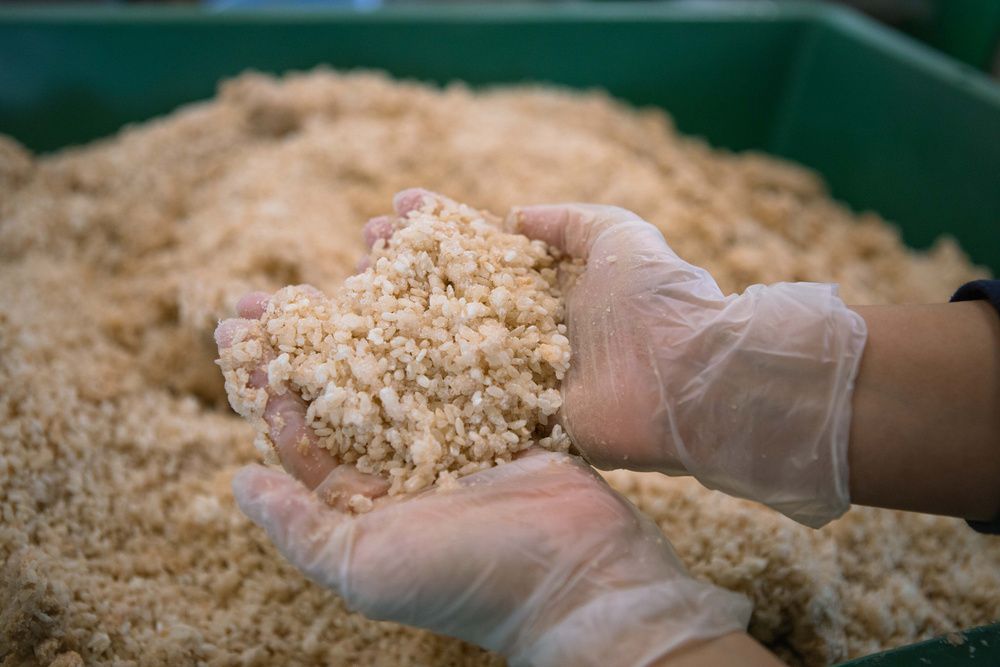 "I love this miso," says Naomi Pomeroy, owner-chef of Portland restaurants Beast and Expatriate, with her hands deep into the mixture of soybeans and koji rice, "It's chunky, not like supermarket miso, which is more like a purée."


We're at Aloha Farm, a miso producer and organic farm in Nasu Kogen, just over three hours drive north of Tokyo. It's February, the month when the miso-making season reaches its peak, leveraging the downturn in temperature which means fermentation can start slow, deepening and leveling-out flavor.

Two years ago, Naomi bought some miso at the Farmers Market at UNU. It was so lively that by the time she packed her suitcase to head back to Portland, it had puffed up double the size. Fortunately, constraints held up and the fermented contents arrived intact and Naomi's suitcase unscathed. The miso was made by the all-women team at Aloha Farm.

"When I first tried it, my mind was blown. The whole beans were my favorite part. It was just so different from other miso I had tasted."

As well as two acclaimed restaurants to her name, Naomi's accolades include a James Beard award, Best New Chef for both Food & Wine and Bon Appètit magazines, as well as being one of Oprah's Top 10 Women on the Rise; her impassioned, down-to-earth attitude makes her one of the most innovative chefs and best bosses in the industry. A self-confessed Japanophile, Naomi has been to Japan many times – the first time was to cook at an event in Fukui Prefecture.

"Food is a nice window to understand the important parts of the culture," Naomi says of her work.

When we arrive at Nasu Kogen in Tochigi Prefecture, a mountainous rural area known for its hot springs and fertile soil, Eri Nagakubo, the founder of Aloha Farm, greets us with her characteristic humble, upbeat hospitality; her sun-lined face is aglow with the warmth of someone close to the land.

Aloha Farm is a collective that started in 1990 in Saitama Prefecture (just by Tokyo) as a club for women interested in food. All office workers at the time, they would meet and cook together, including making miso), to find joy outside the confines of the office. The name comes from the Aloha spirit of Hawaii, the coordination of mind and heart.

"When I joined the club," Eri says, "I was working in a cosmetics company. But over time, I started to realize that it doesn't matter what you put on your face, it's what you put inside that makes the difference."

After the Tohoku Earthquake in 2011, many Japanese re-evaluated their lives and sought more fulfilling work, and so did the Aloha Farm collective. By chance – fate – they happened upon a vacant property in Nasu Kogen and made their side-gig their main métier: miso-making and organic vegetable farming.

Eri leads us down to explore the greenhouses before our hands-on miso lesson.

"Shungiku!" Naomi says as we lay eyes inside the first greenhouse. Shungiku are chrysanthemum leaves, which look and taste similar to arugula.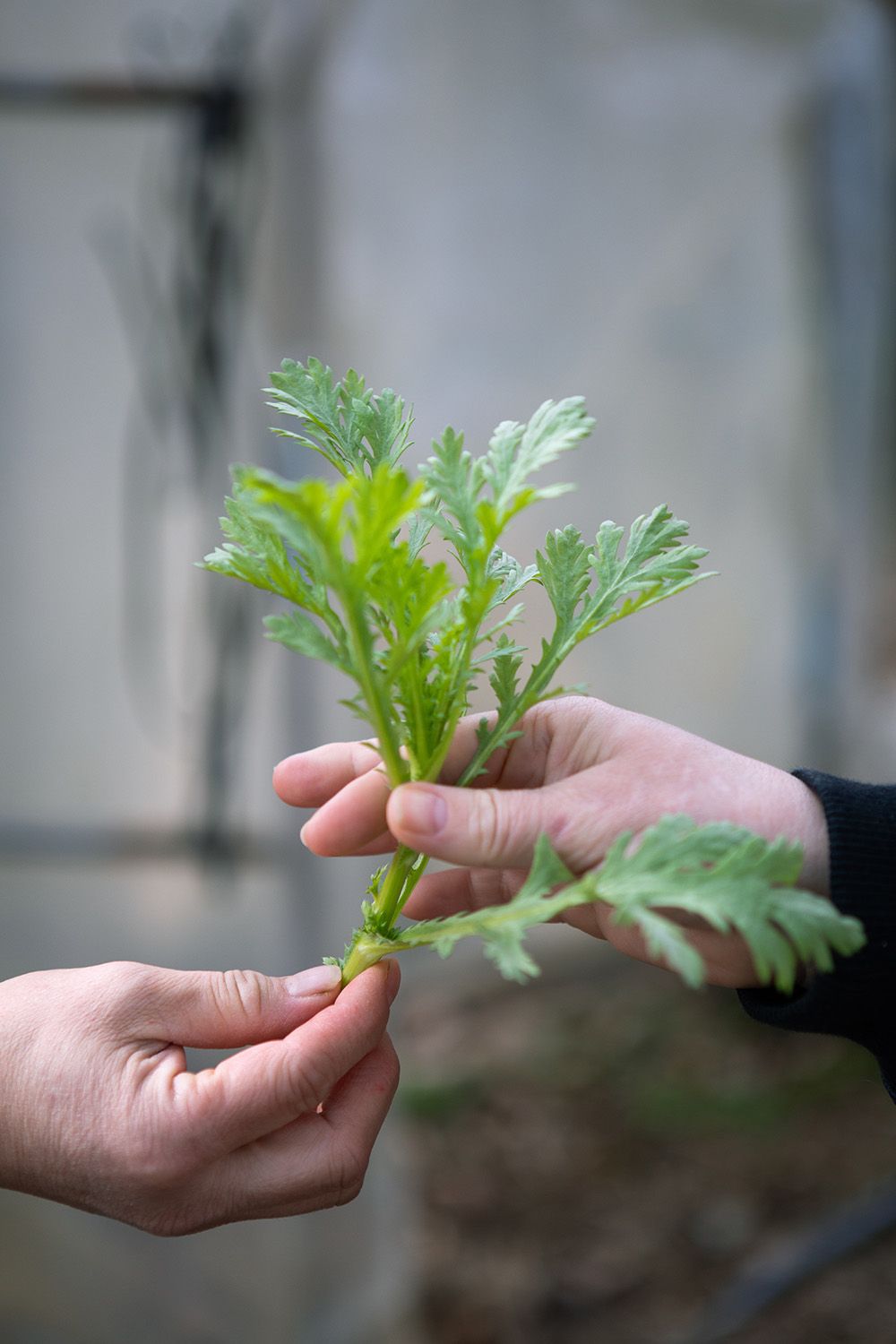 "It's my favorite. I use this all the time at Beast. I mix it with a dressing using the miso from this farm," Naomi says and takes a bite of a tendril of the dark-green frilled leaves. "But, wow – this is so much sweeter than what we get in Portland."

The next greenhouses are home to an array of lettuces, herbs, radishes, and turnips. Eri pulls up a turnip, dusts it and hands it to Naomi, who bites right into it, letting off a crisp, watery-sounding bite.

"It tastes like an apple, it's so sweet and crunchy," says Naomi, "I've eaten all these vegetables before, but here they taste different."

"They're sweeter in winter," says Eri, "Because they're protecting themselves they get the power of life."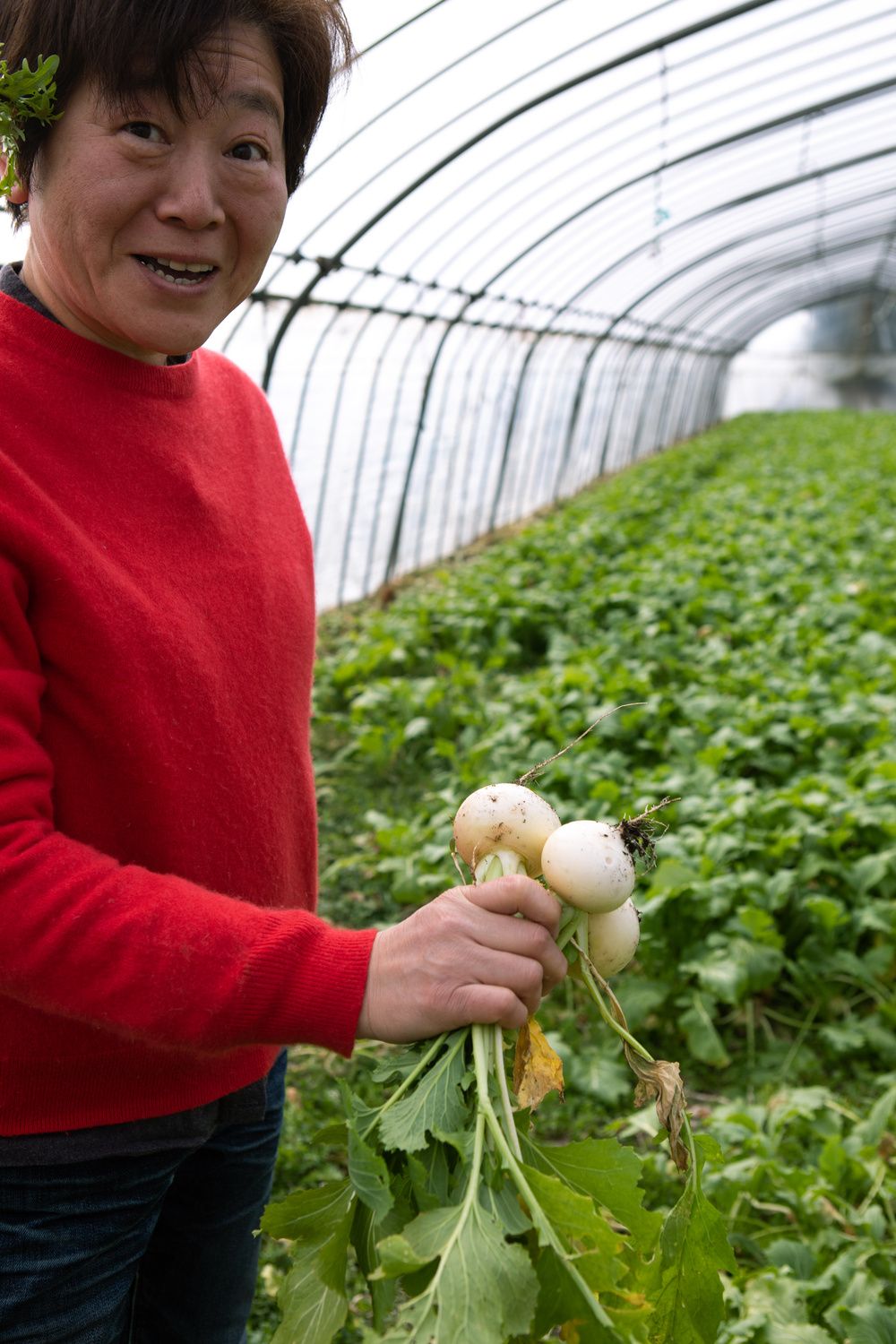 As we walk back to the miso room, we pass a giant stack of dried soybean shells, the beans having been removed for miso. They're left there, Eri tells us, to make their way back into the earth.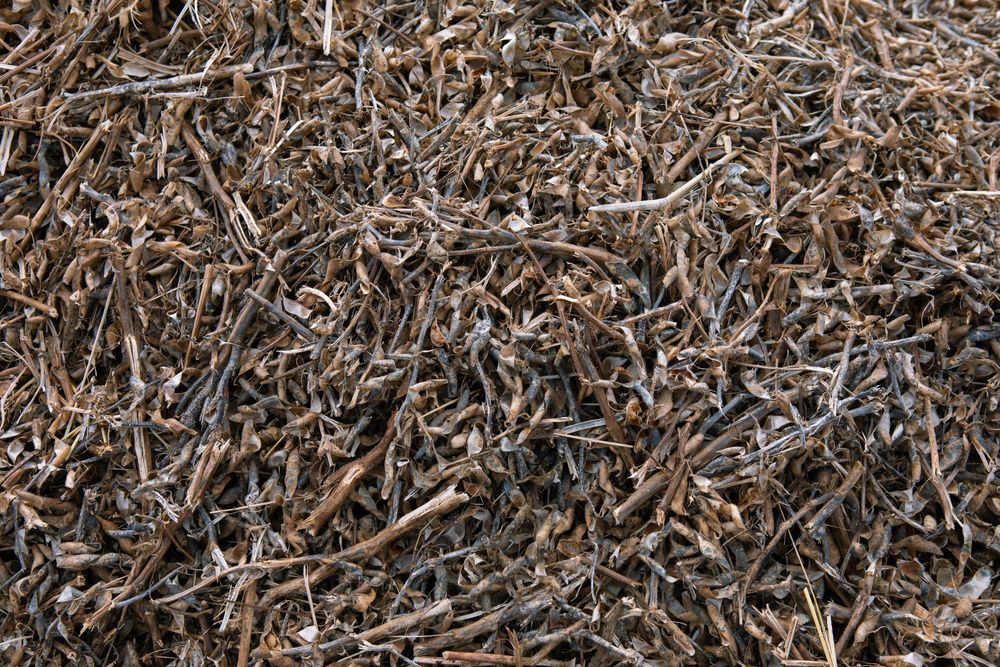 Inside the miso-making room, four of the Aloha Farm women stand around a small island bench; on top is a plastic crate of cooked soybeans and koji rice. In neatly tied headscarves and aprons, they chatter away as they work methodically, meditatively. You can only imagine what the micro-organisms in the miso must have overheard over the years, from weather to family, friends, jokes, fears, births, deaths, meal plans, politics. It's this bond, this intangible ingredient, that is also passed to the miso.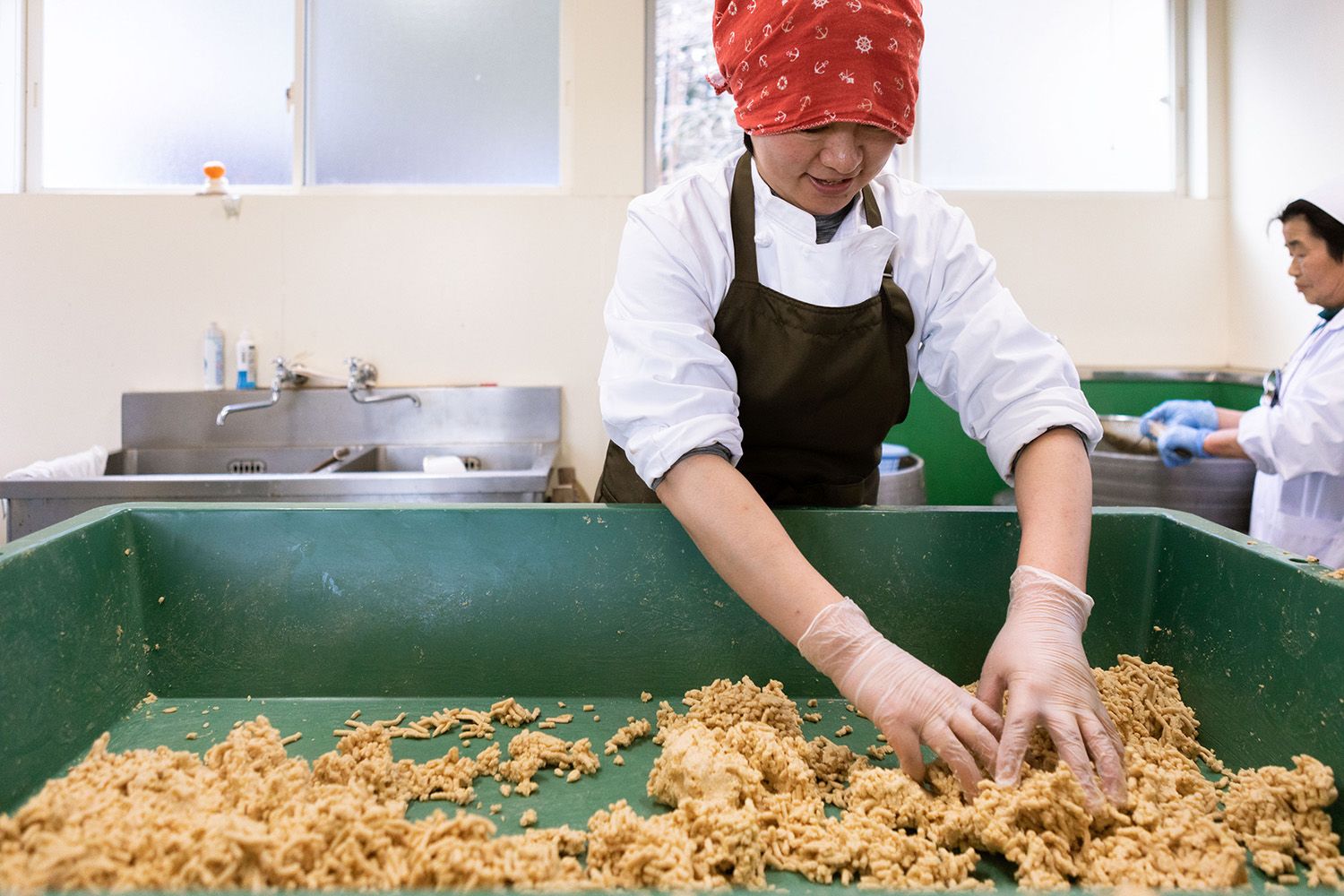 The soybeans cook for at least three hours in giant hagama, vintage pots used for nabe (Japanese hotpot) in their former life, but were retired to miso. A dappled and crackled turquoise exterior suggests their former glory, but adds character.
"I really like the color," Naomi says, "And even though it seems old, to me it says a lot. It has history."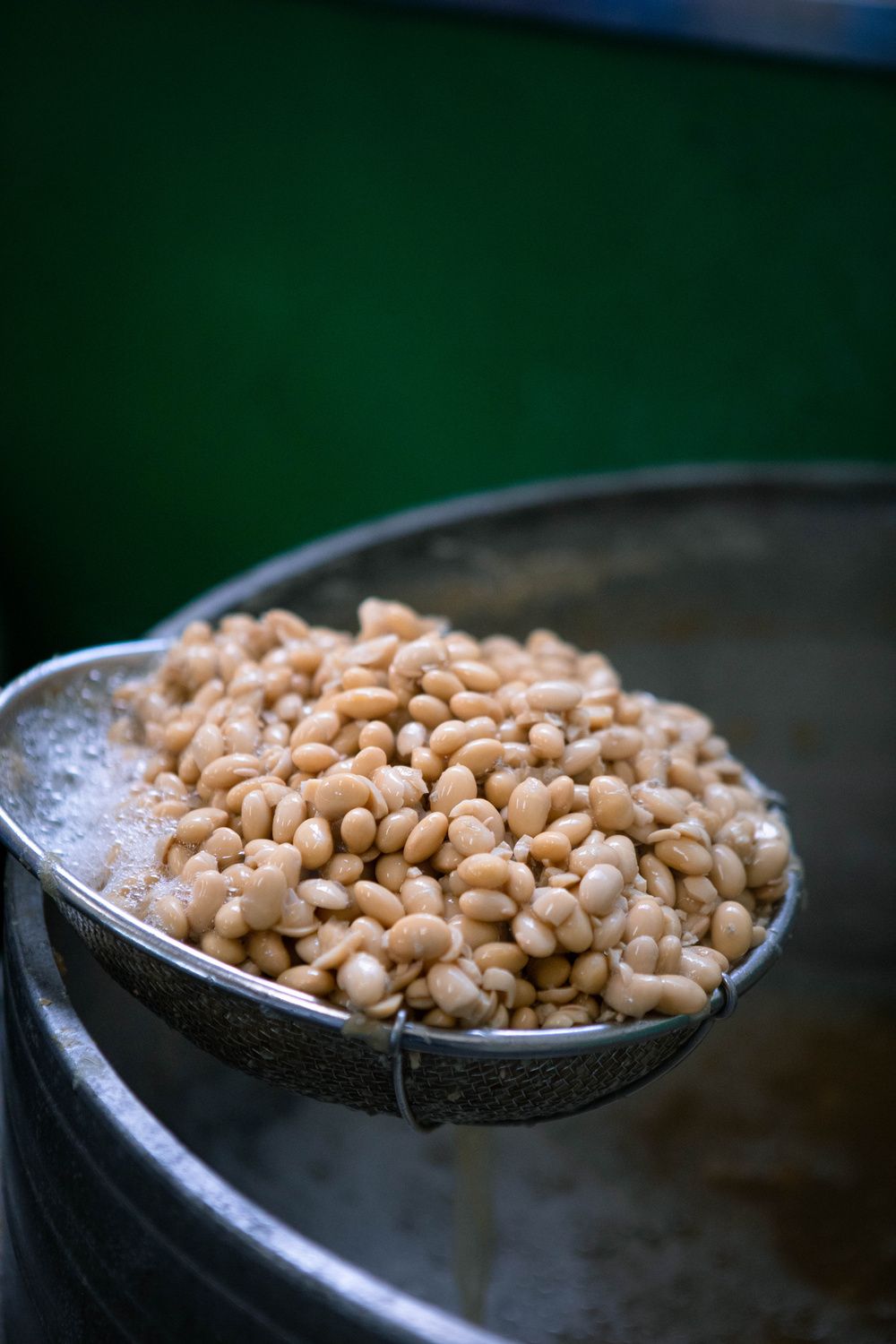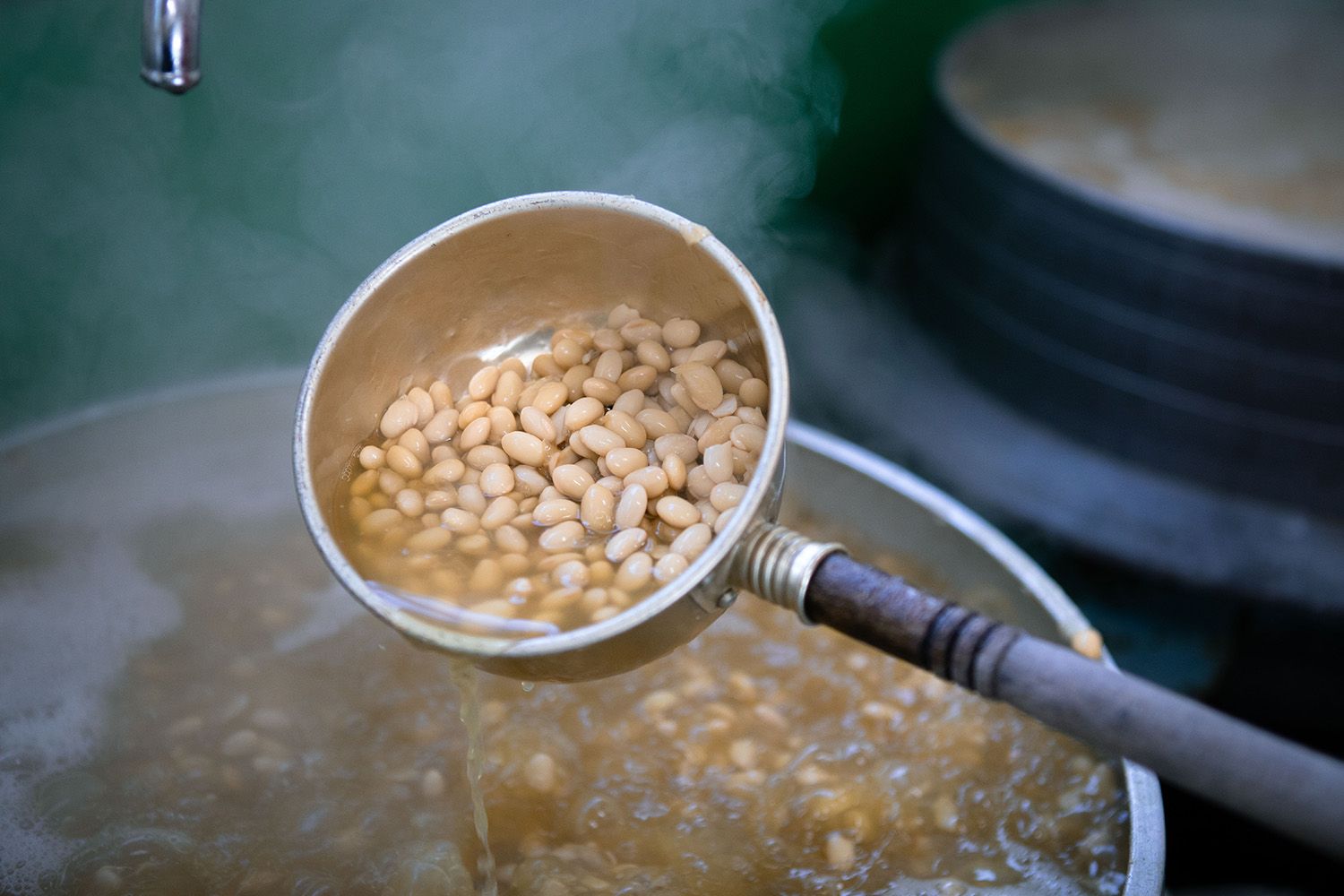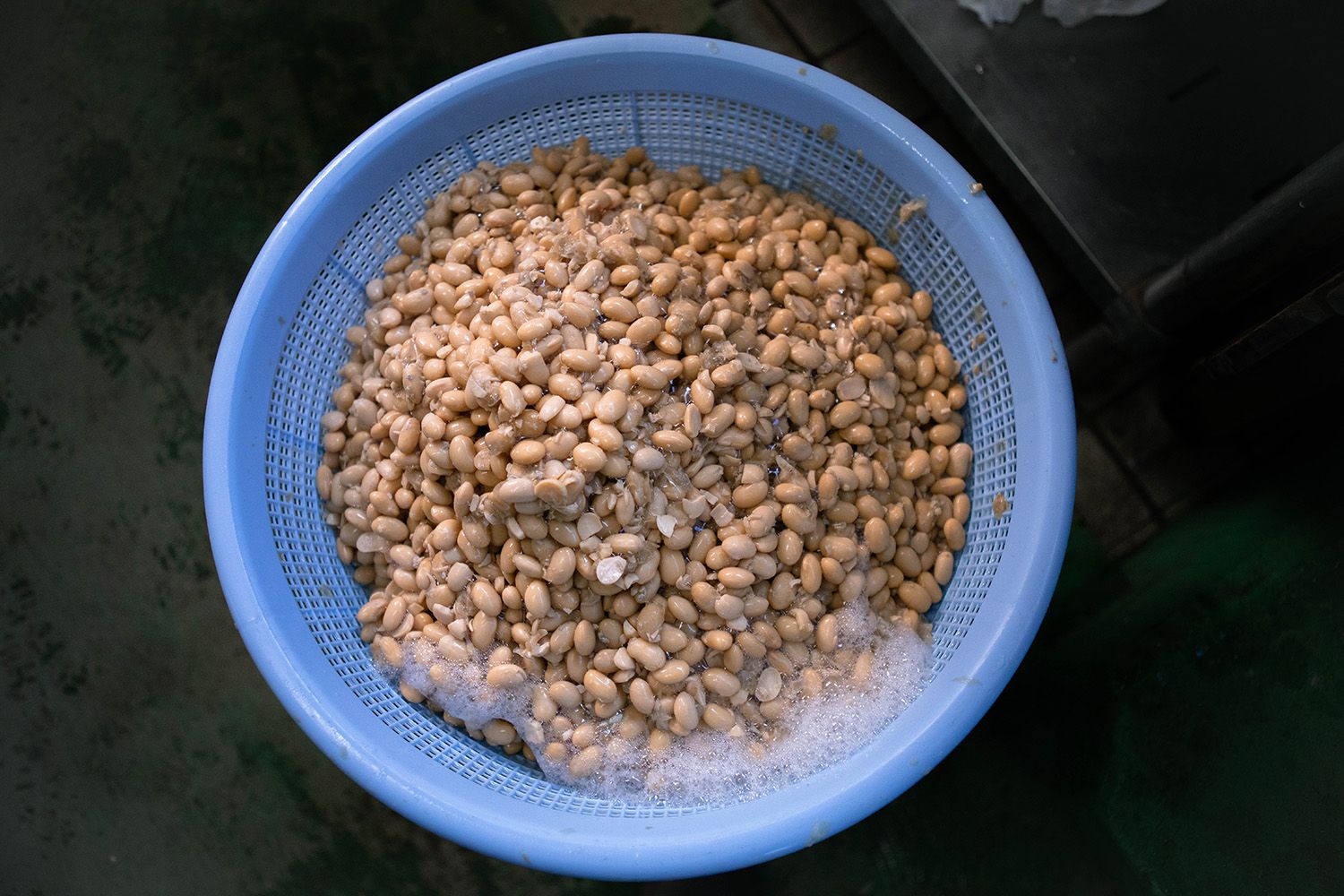 Eri hands around a ladle of the liquid from the simmering beans – the broth is light, but has a smoothness to it, and is surprisingly complex considering its just water, soybeans, and salt.
"If the ingredients that go into miso don't taste good, the miso doesn't taste good," says Eri."The soybeans have a lot of umami. We use this stock in place of dashi."
Aloha Farm grow most of the soybeans for their miso. After picking and shelling the beans, they're laid out in the sun to dry, then soaked overnight to swell. As well as soybeans, they grow their rice to make koji (the other major component of miso, a mixture of steamed rice and aspergillus oryzae, which enables the fermentation process). Some of their rice is sold to Daina Sake Brewery, an award-winning local brewery. It's "fruity and easy to drink," says Eri.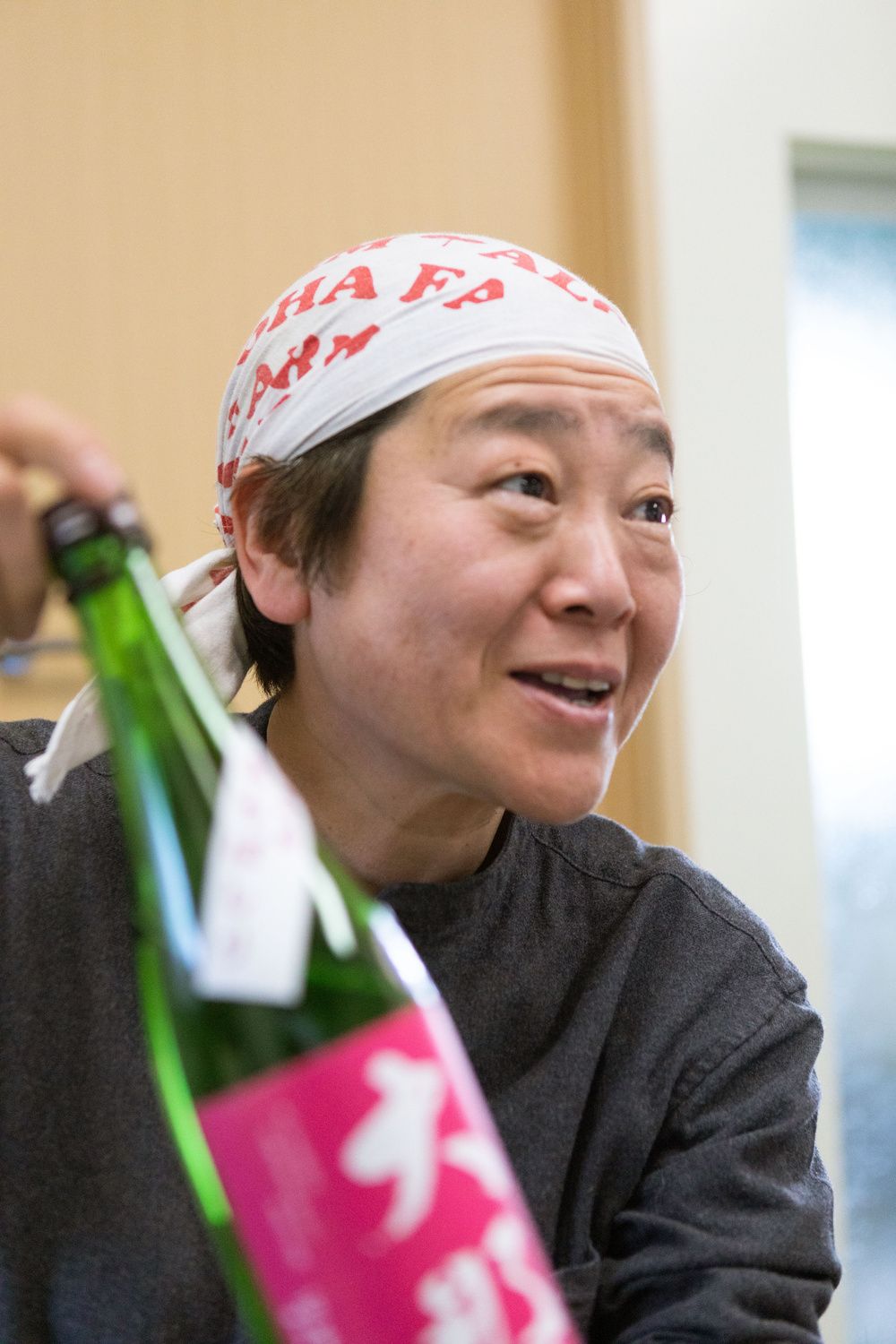 The cooked beans are pressed through what looks like a hulking sausage mincer, coming out in pale brown tendrils. The mashed bean tendrils are mixed with whole beans, which lends a rusticness and 'remind you of the origin', says Eri, as well as giving it a textured mouthfeel.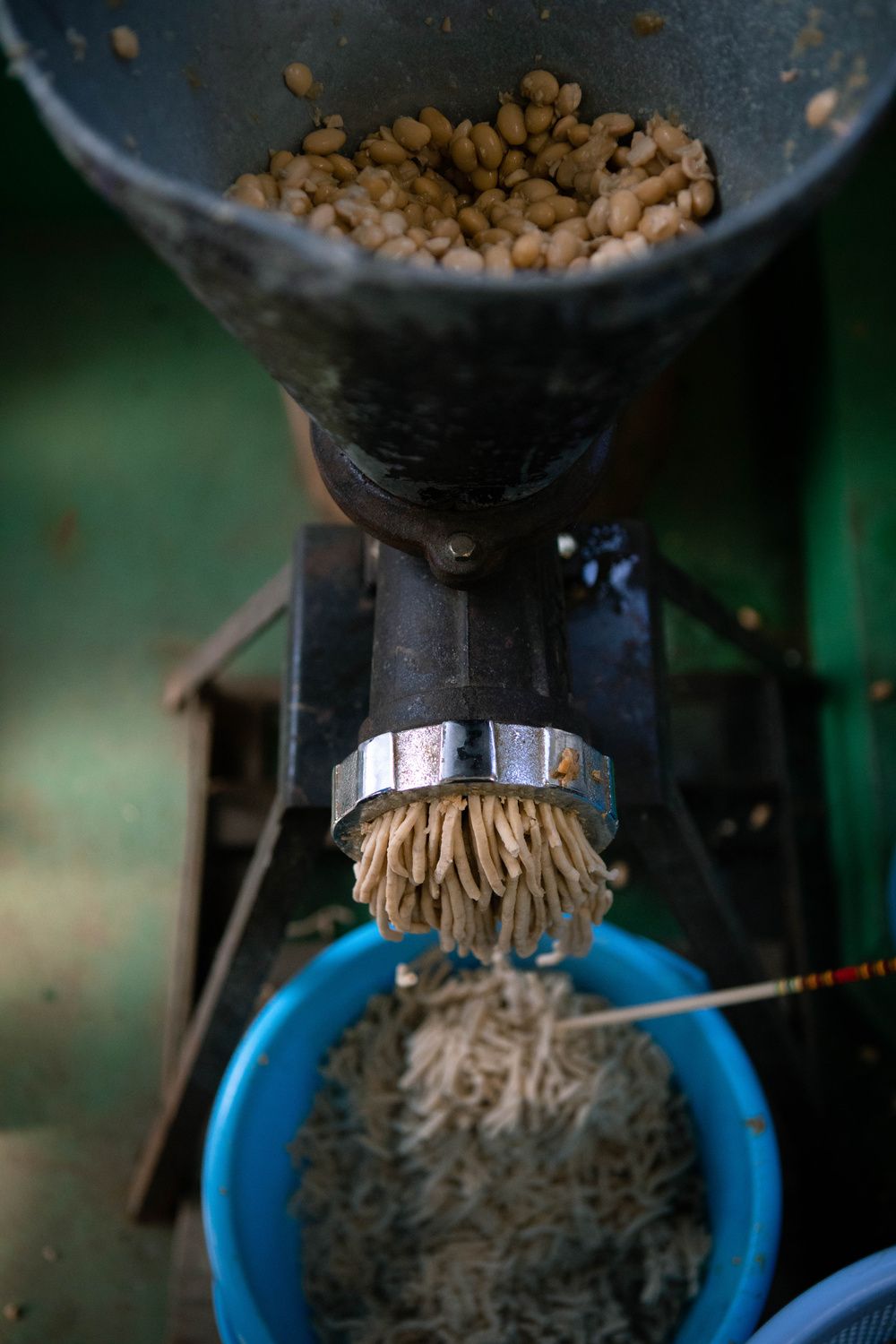 Typically, the ratio for miso is equal proportions of soybeans and koji rice, with salt and water. At Aloha Farm, the recipe is 13kg beans, 18kg koji rice, 7kg salt, and water. This higher ratio of rice koji 'makes it more umami', and because they grow their own rice, they want to present a more rice-forward flavor.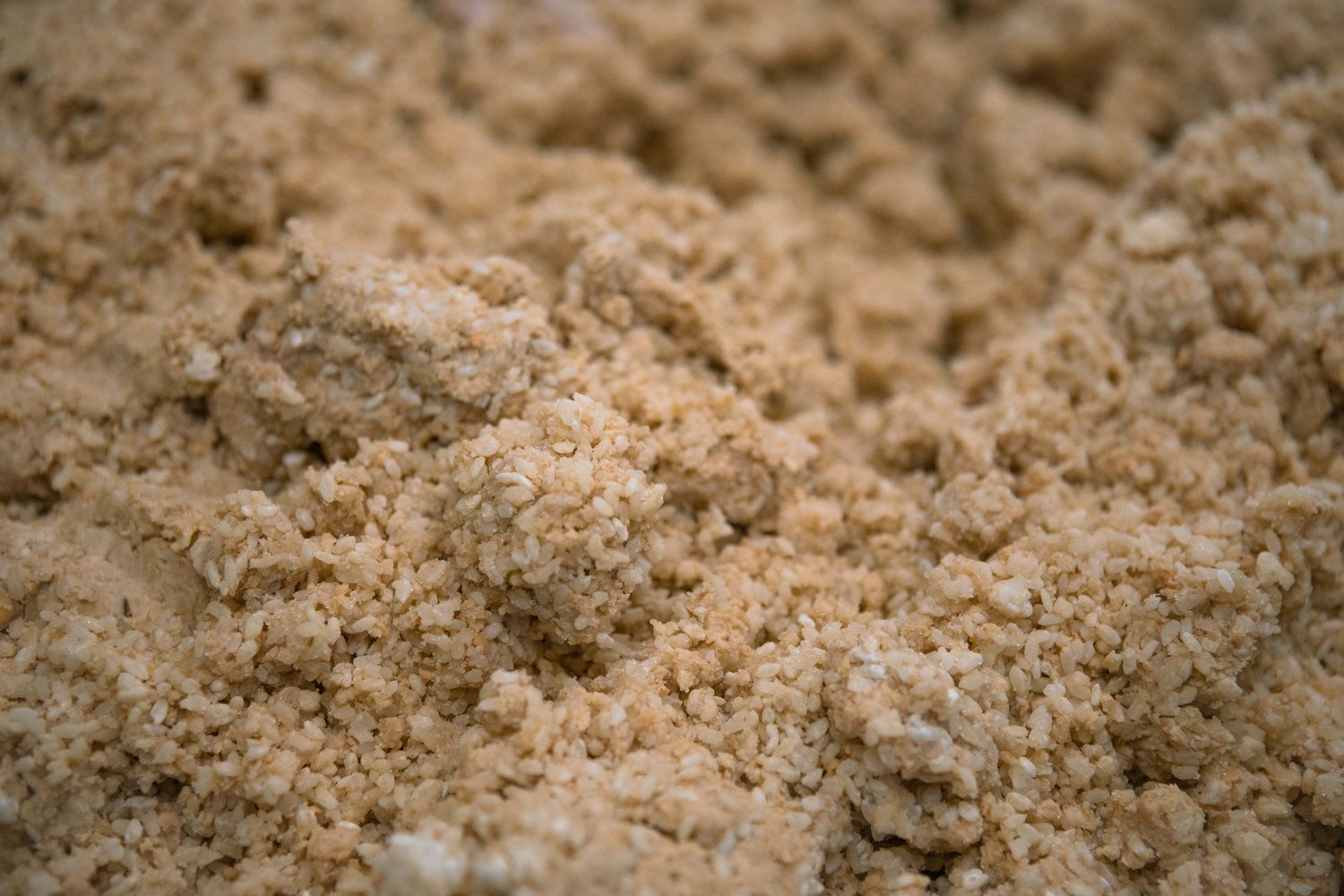 "So who's recipe is this?" asks Naomi.

"Odentousama," – the sun god – Eri says, holding her hands to the sky. The recipe is not a secret, it just seems that to origins are not exactly known – it's just always been.

"Yes!", says Naomi, "People always ask me, 'How do you make your recipes?' and I tell them, 'it came from the sky.'"

Naomi explains some ways she uses their miso in her restaurant: the famous miso vinaigrette, miso-braised pork, miso ice cream,  which is met with a chorus of oshii's (delicious).

"I'm not trying to make traditional Japanese food, because I'm not Japanese," says Naomi, "But this is how I know to show my reverence. When you take an ingredient and make it yours, do your best with it, that's how you show respect."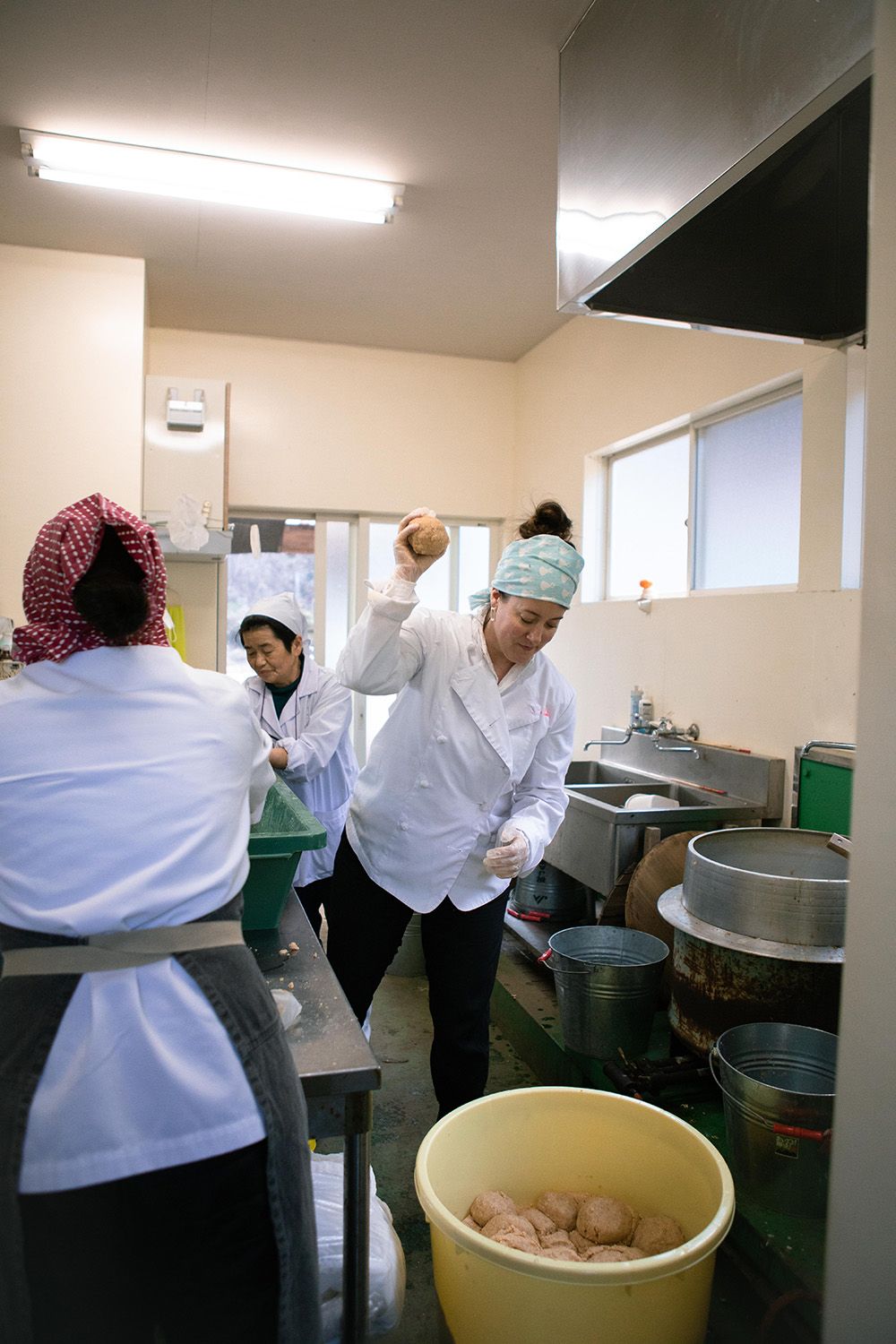 Driving back to Tokyo, Naomi tells me that the thing that resonated with her the first time she visited Japan is the dedication to craft and acute attention to detail. It's something that impresses most people who visit Japan, but for Naomi, it's especially personal.

"My dad was a jeweler," she says, "I grew up around him in his workshop. He created custom jewelry, so people would come to him with a story of how they met. He would sketch something. Everything he created had a sense of place and story. And I think that's why attention to detail comes naturally to me. He was motivated by creating pieces with a sense of place and story, profit came second to that, which is like Japanese artisans - anyone can work hard, but not everyone can perfect a craft."

"Learning about who these people are, their vision, even tasting their vegetables – it makes a big difference to see everything together."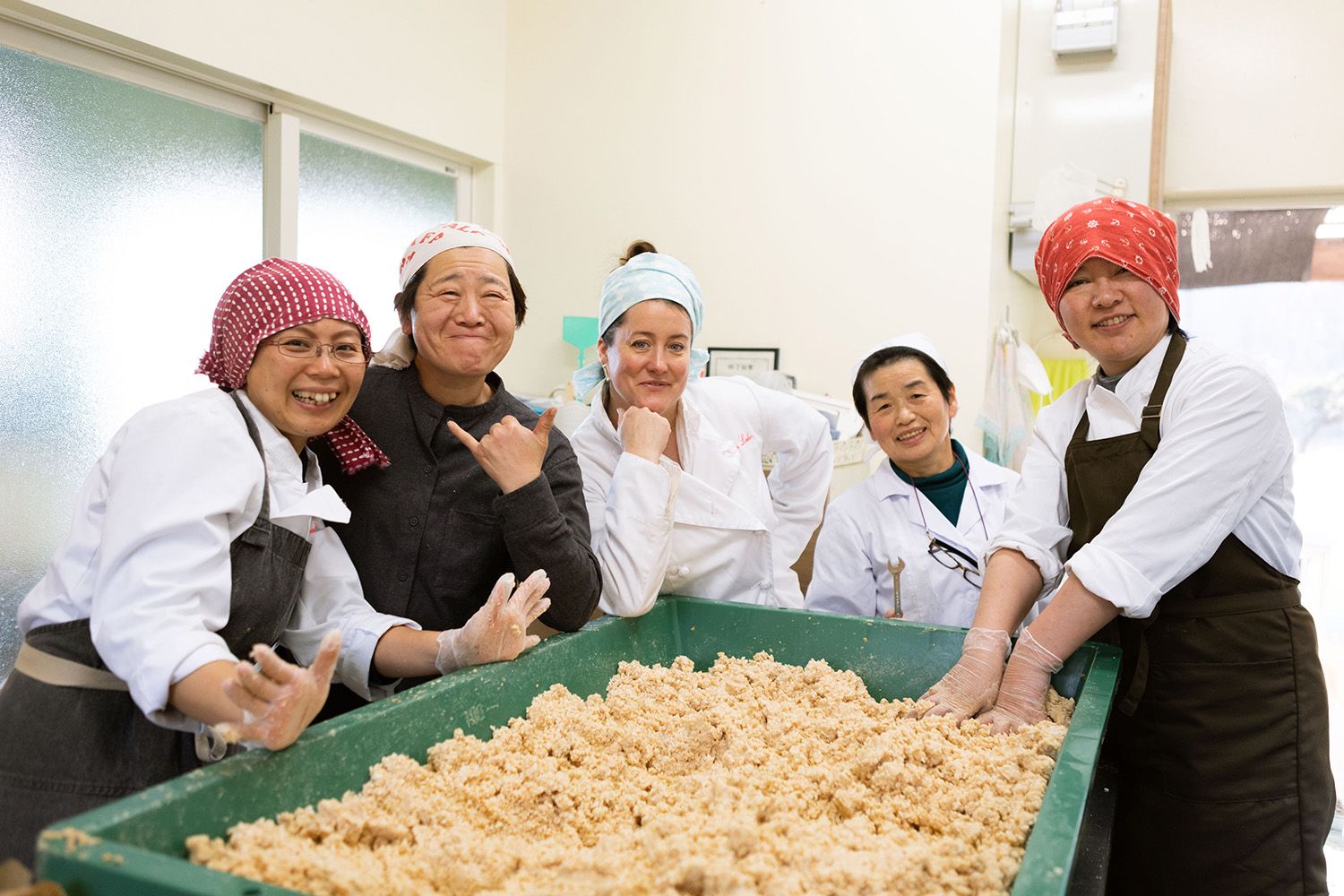 If you liked this article, please consider supporting APPETITE. Your donation will go towards project costs and paying creatives. One-off donations start from $5 via Buy Me a Coffee.