Photos and video by Nathalie Cantacuzino
For the first of our new series — One Farmer / One Chef — we collaborated with chef Shinobu Namae of L'Effervescence to create a meal using fresh produce from Kangawa local farm Green Basket.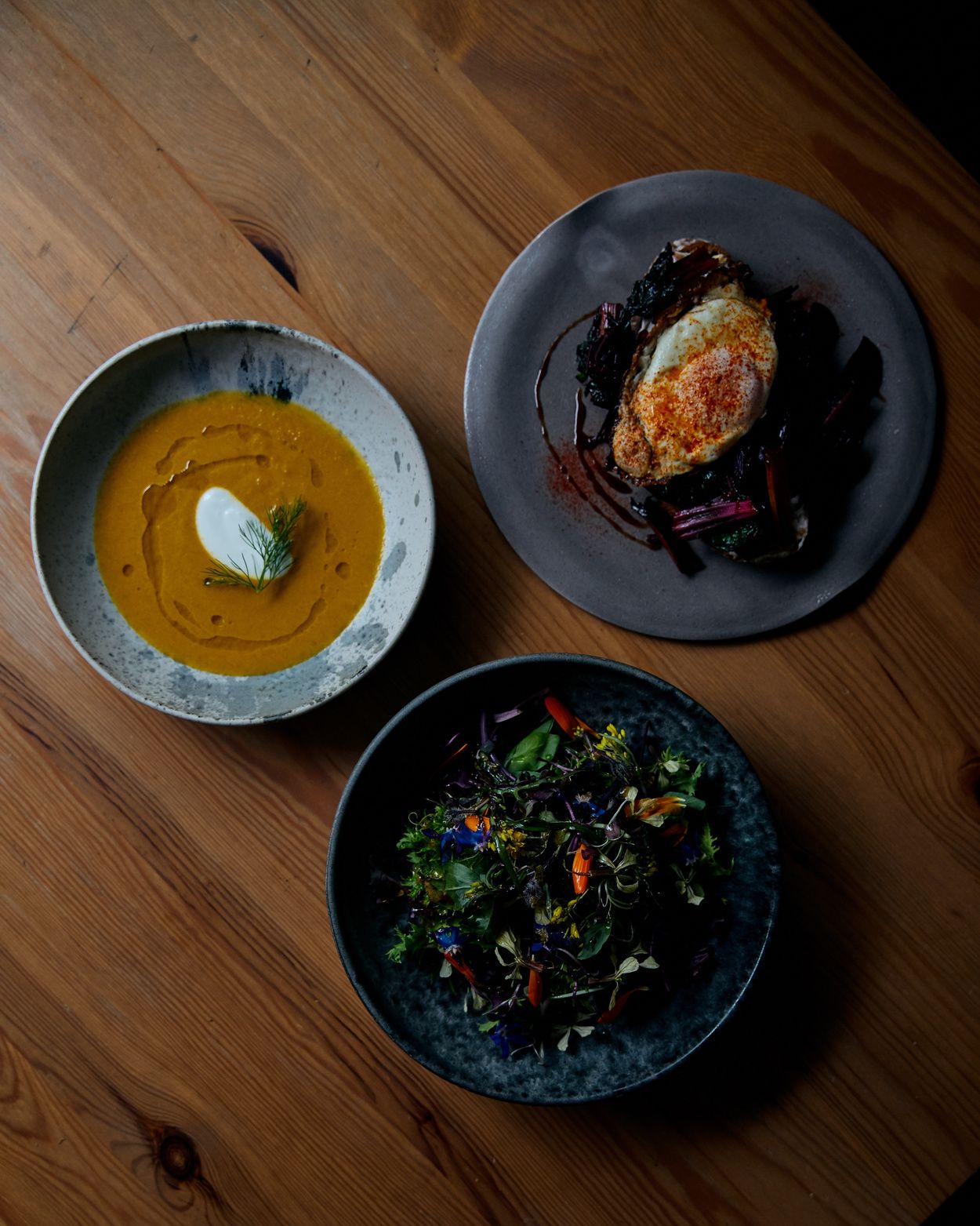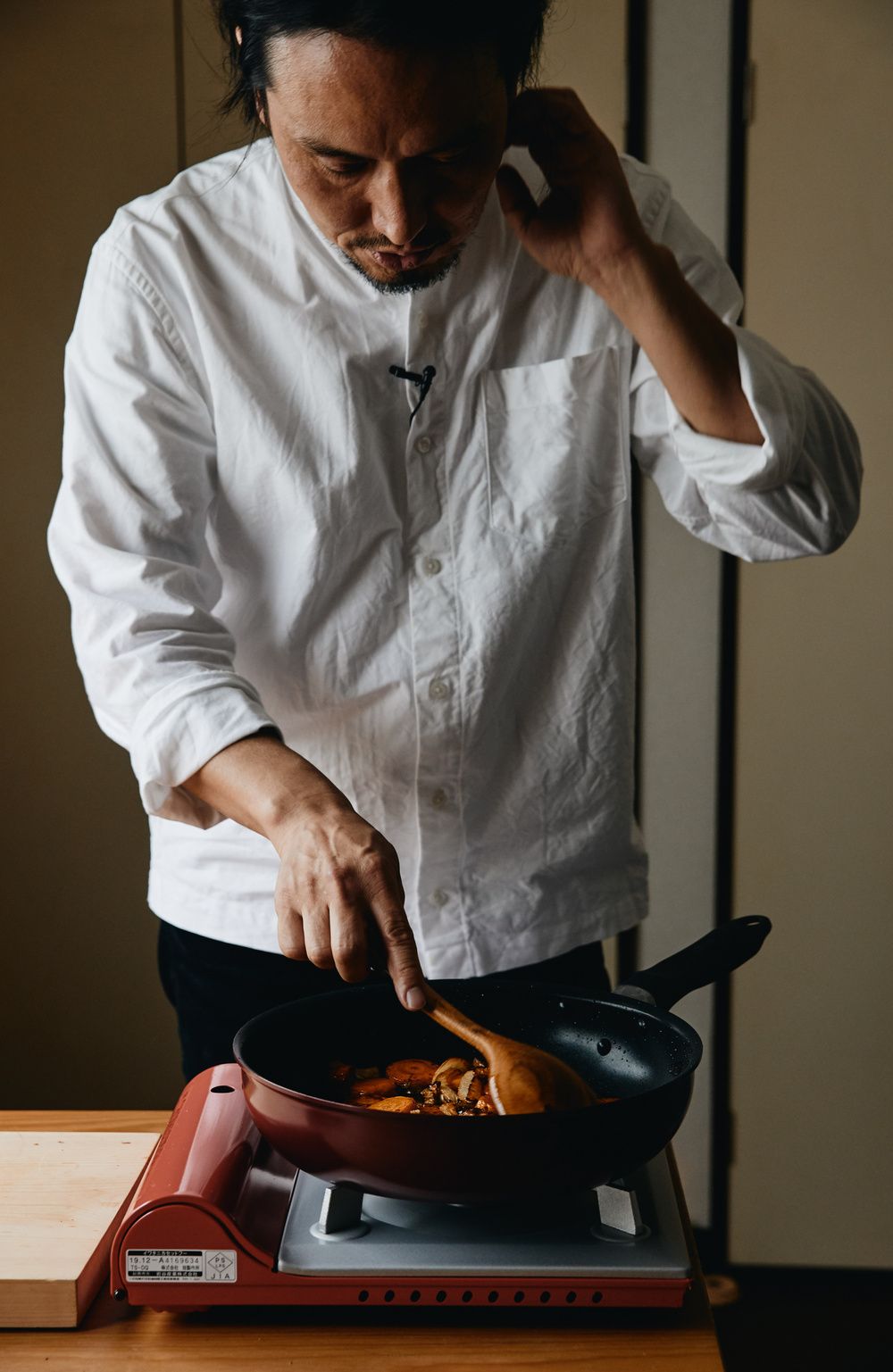 Salad á la Green Basket
(Vegetables from Green Basket)
2 cups of fresh micro-greens (baby leaf mix, pea shoots, micro mustard and radish leaves, arugula flower, borage flower, calendula flower
Dressing
50ml rice vinegar
20-30g brown sugar
100ml olive oil
20-30g grain mustard salt
1. Add sugar (and water in some cases) to your favorite vinegar (rice vinegar this time) and let the sourness settle so that you can not taste it even if you taste it.
2. Pour in double amount of olive oil to vinegar.
3. Add grain mustard and shake well to combine. Add salt to taste.
Tips:
When tasting, dip in a spoon or one of the salad leaves and taste. Keep the variety of leaves simple. Step 1 is where you need to get the balance right! As for the mustard in the dressing, it is thought that horseradish, hot pepper, horseradish, etc. are also good substitutes. Ex .: carrot salad dressing with dill or coriander seeds and leaves. Like Julia Child says "Everything becomes more delicious with butter", adding a little butter in your pan (50:50 ratio butter/olive oil) will bring out umami to your vegetables!
Fennel and Carrot Soup

Fennel (white part of the fennel)
Dill
Carrot
Onion
To serve
Kelp
Olive oil
Butter
Yogurt
Add water and kelp (20-30g of kelp to 1 liter) in a pan and heat the water until it is about to boil. Cover the pan and leave for 30 minutes to 1 hour.
Chop the fennel, carrot (with skin), and onion, and add olive oil and butter to a frying pan. Bake savory.
Add soup stock little by little while mixing the stir-fried vegetables in a hand blender (a mixer, if not available), and make it to a puree. The soup is finishes when you have reached your desired consistency.
Warm up the soup if needed, sprinkle with a spoonful of yogurt in the middle, drizzle a little olive oil and decorate with the dill leaves.
Vegetable Tartine (Open sandwich) with Fried Egg
Swiss chard
Beets
Garlic
To serve
Bread of your choice
Olive oil
Butter
Sour cream
Egg
Salt
Paprika (or pepper)
Balsamic vinegar, Molasses or Worcestershire sauce
Slice your favorite bread (sour dough bread is recommended) to about 1.5-2 cm and toast it in a frying pan with olive oil and butter until golden.
Scrape the cut halves of the garlic on the surface of the baked bread and let it absorb the aroma. Finely chop the garlic. Swiss chard is roughly chopped. Slice the beets thinly.
In a frying pan, slowly fry garlic in olive oil, and when it begins to add color, add butter and vegetables from step 3 and stir-fry.
Stir on medium heat for about 1 minute. When have gotten color, put the vegetables on the bread.
Fry the fried egg to the desired hardness and place the egg on top of the toast.
To finish, sprinkle with paprika powder and drizzle with molasses or balsamic vinegar.
If you liked this article, please consider supporting APPETITE. Your donation will go towards project costs and paying creatives. One-off donations start from $5 via Buy Me a Coffee.