Photos and video by Nathalie Cantacuzino
"There's a lot of exciting things happening underwater, also when it comes to vegetables," says Thomas Frebel, head chef of Inua restaurant in Tokyo. Even before Inua opened in 2018, Thomas and his team began studying the seaweeds of Japan, an ingredient which became a fundamental part of their menu. Inua's first seaweed dish was a savory seaweed salad, which featured on the opening menu – "from then on, we became a bit more brave and decided to make something sweet," says Thomas.
Hirome, the variety that stars in Inua's Seaweed Mille-Feuille, is a seaweed that grows in the warm currents of Wakayama; an enormous frond – the kanji characters of its name stand for 'wide cloth' – hirome is harvested for not longer than four weeks a year. Inua sources their hirome from a group of fishermen in the south coast of Wakayama called Fisherman's Wharf of Shirahama.
The seaweed is blanched in a spiced kombu dashi, then lacquered in ghee and icing sugar and baked until crisp. While it's baking, it's removed from the oven and folded for texture, "to create airy pockets characteristic of mille-feuille."
"People are a little bit skeptical at first about trying a seaweed dessert, then extremely surprised," says Thomas of his Seaweed Mille-Feuille, "but with the honey, the spices, butter, cream… it's just an incredible semi-savory, salty-sweet crisp."
The seaweed is like flaky and delicate pastry, and shatters as you bite it. It's similar to baklava but fresher on the palate, greener and brighter in flavor – and it's remarkably un-seaweedy.
Thomas wanted to share his Seaweed Mille-Feuille recipe with Appetite readers "to put the focus on the gardeners and caretakers of the seas – to open up people's minds and horizons to the culinary possibilities of sea vegetables, and in turn make them understand that, if we want to utilize that part of our planet as well as a source of food, we really must look after our oceans."
Note: There are a few changes in the version of Seaweed Mille-Feuille for Appetite, to make the recipe more home accessible: instead of the honey kombucha and pine needle dashi poaching liquid used in the restaurant, the hirome seaweed is cooked in spiced dashi, cassis-infused oil is replaced with a nut oil, and salt is recommended for plating rather than pine salt.
Seaweed Mille Feuille
Serves 4
4 Caramelised Hirome Sheets
160g whipped 48% double cream (soft peak)
10g Blackcurrant Wood Oil (or your favorite sesame oil, nut oil, or a light olive oil)
Green guzu

Blackcurrant Wood Oil
"In the restaurant we use cassis (blackcurrant) wood oil... this is quite nerdy, so for anyone cooking this at home, you can use your favorite sesame oil, favorite nut oil, a very light olive oil can work very well, too."
100g young blackcurrant wood
150g rice oil
Pound the wood with a hammer until it shatters and splits. Vacuum pack together with the oil and steam at 60 degrees for 6 hours. Cool down the bag in an ice slurry and allow oil to infuse overnight. Open bags over a fine cheesecloth and hang to extract oil. Discard wood.

Cold-Infused Kombu Dashi
5L filtered water
300g Rishiri kombu (or any good quality kombu)
Submerge kombu in water and infuse in the refrigerator for 12 hours. Strain, keep the kombu for other applications.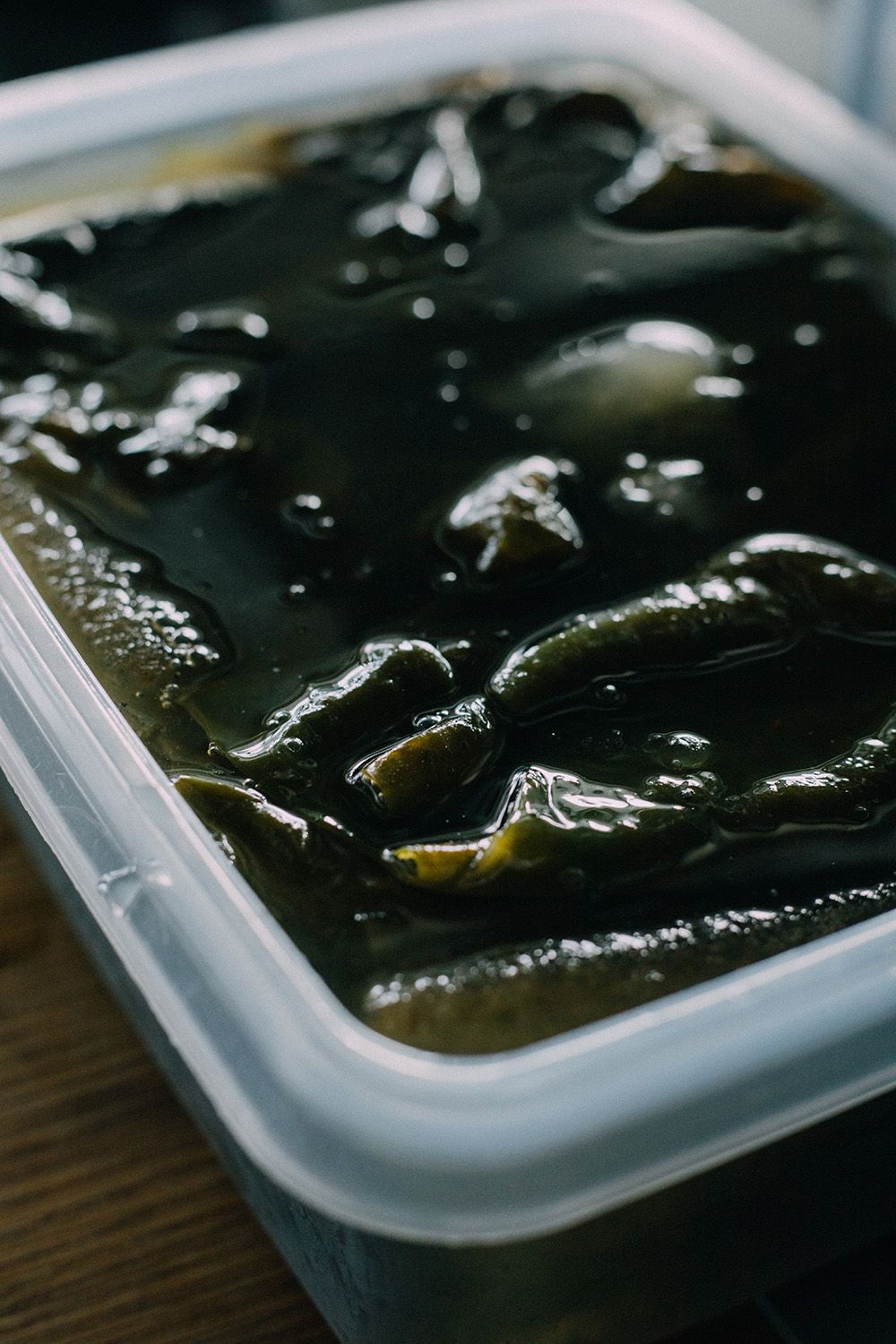 Spiced and Sweetened Kombu Dashi
4L cold infused Kombu Dashi
2 fresh vanilla beans (scraped)
4 pieces dried cardamom
2 sticks dried cinnamon
4 pieces dried star anise
400g caster sugar
180g chestnut honey
Combine all ingredients in a pan and stir well while bringing up to a boil. Once boiled, infuse off the heat for 30 minutes. Strain liquid through a fine sieve, then place half the liquid in a container and cool completely to be used as refreshing liquid after the seaweed is blanched. (A semi-frozen slurry is ideal but not absolutely essential)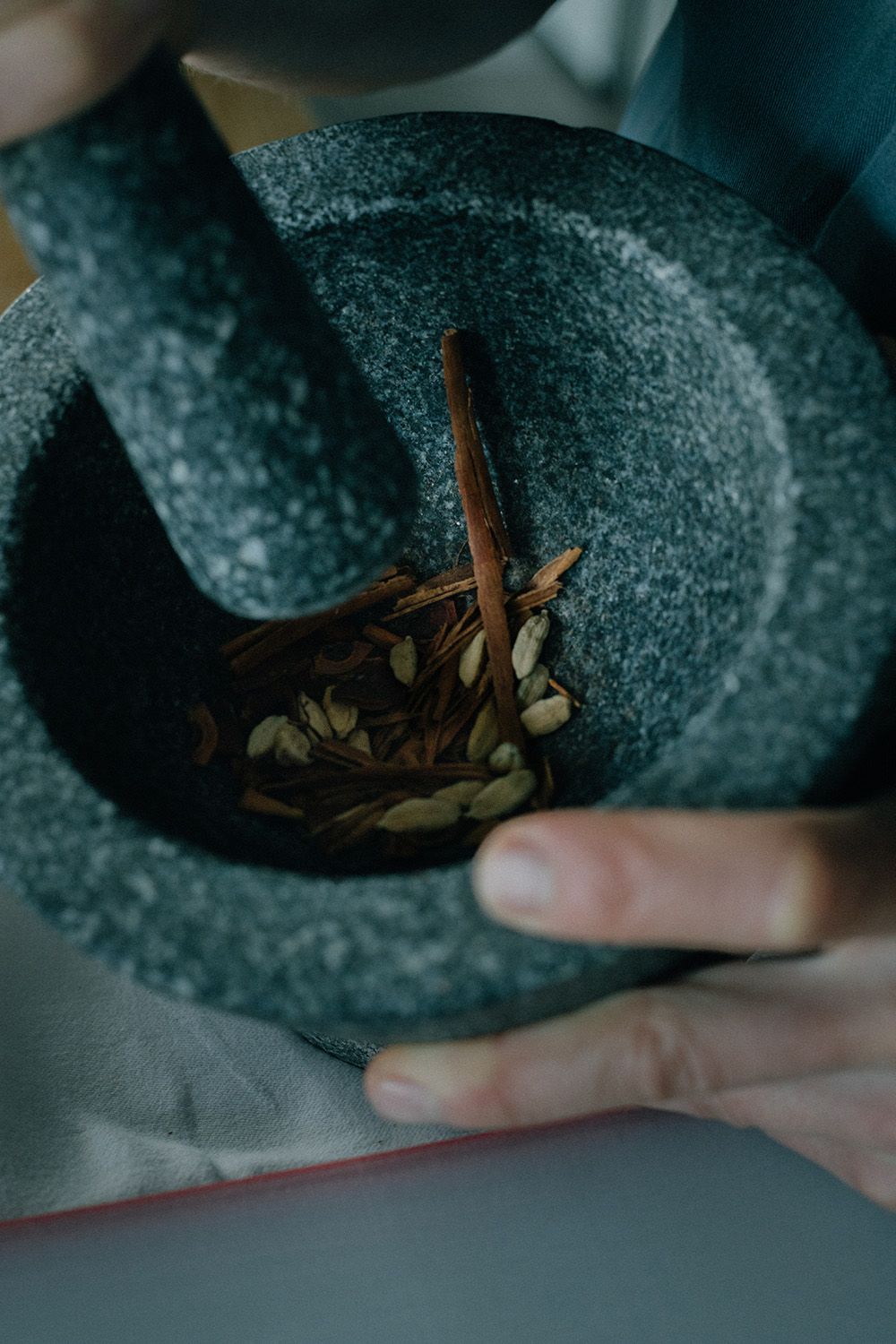 Caramelised Hirome Sheets
"The recipe can also work with very thin wakame. Wakame can be big and thick, so it would need younger, thinner wakame, and you may need to blanch it a little longer."
400g Hirome seaweed (raw, whole)
2L Spiced and Sweetened Kombu Dashi
Clarified butter
Powdered sugar
Trim away the main stem of the Hirome seaweed so all that is left is the thin "leaves" on either side. Wash a few time in plenty of fresh water to remove excess salinity. Blanch the trimmed seaweed in the sweetened dashi for 30 seconds, then refresh in the ice slurry. Once fully chilled, drain the seaweed well and lay flat on trays lined with paper towels to remove all excess moisture.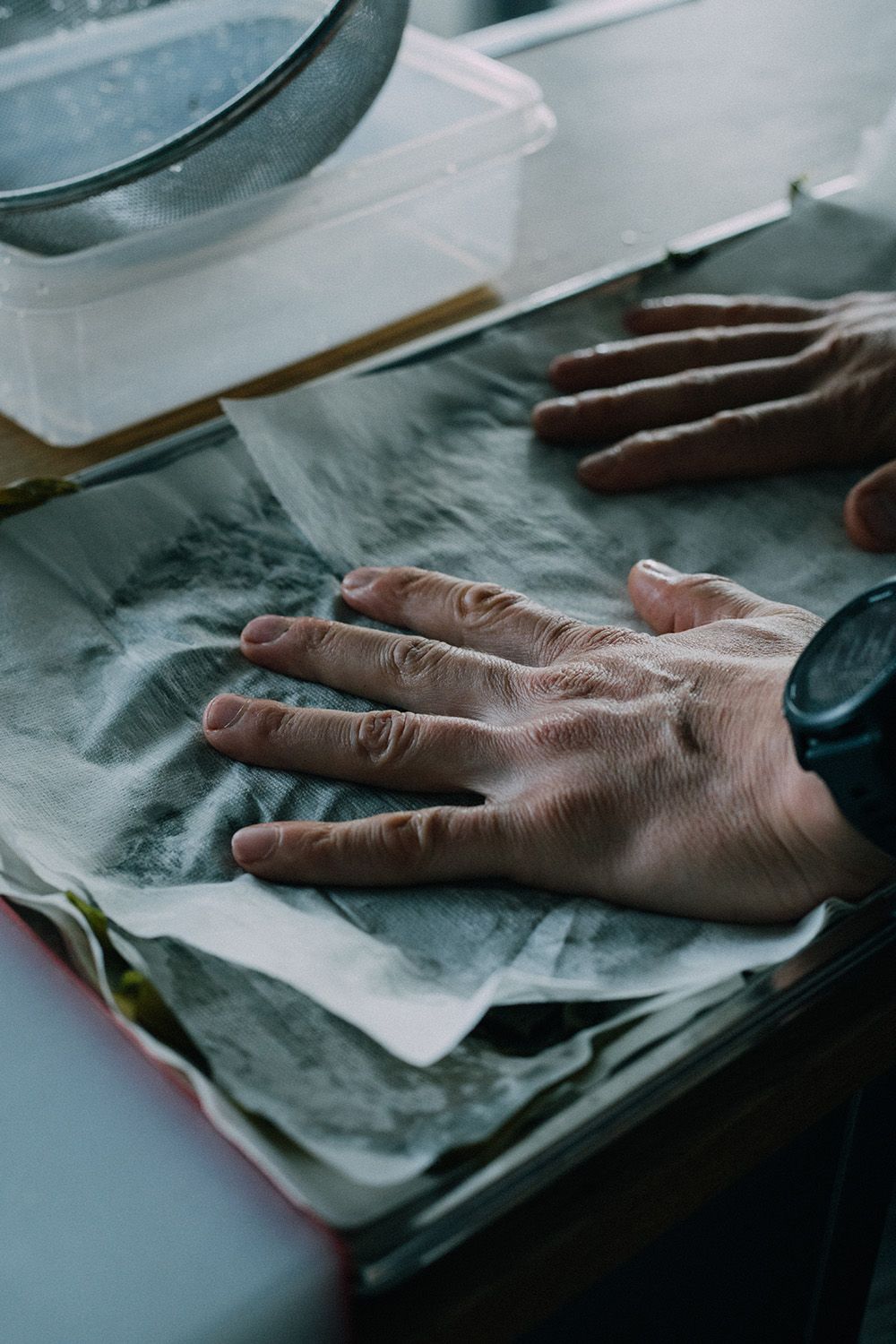 Pre-heat oven to 175 degrees on 50% humidity. Line a baking tray with parchment paper and brush generously with melted clarified butter. Give the entire tray a light dusting of powdered sugar over the clarified butter, then lay the seaweed down as flat as possible. Brush the seaweed with clarified butter and dust with a generous amount of powdered sugar. Place baking trays into the oven and bake for 5 minutes.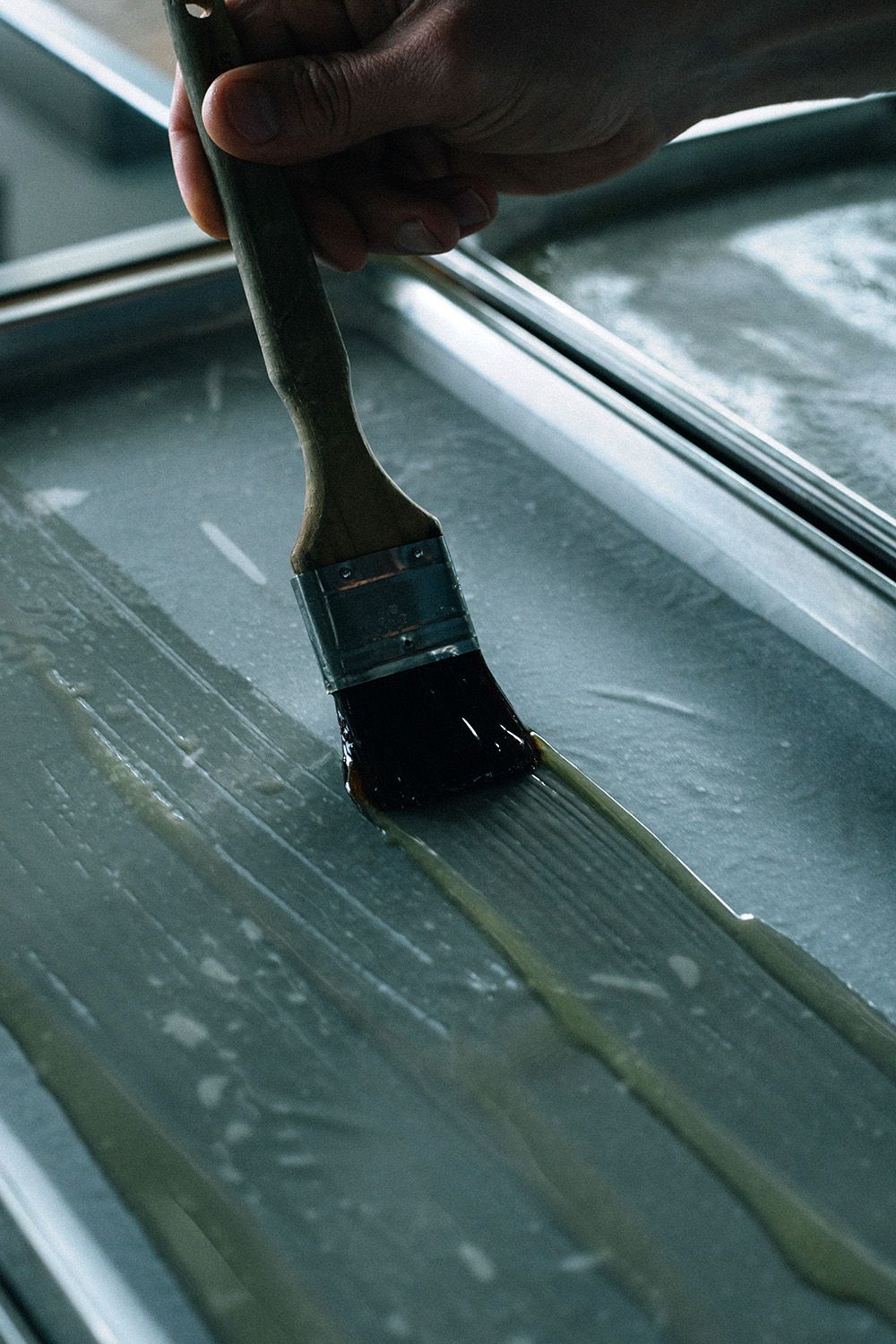 After 5 minutes, take out the baking trays and fold each piece of seaweed over itself, and bake for a further 4 minutes. Turn the trays in the oven and bake for another 5 minutes. Continue observing the seaweed and keep checking until it's evenly caramelized.
Transfer caramelized seaweed sheets onto a clean tray lined with paper towel to cool down and absorb excess fat. Keep in a cool, dry area until ready to assemble.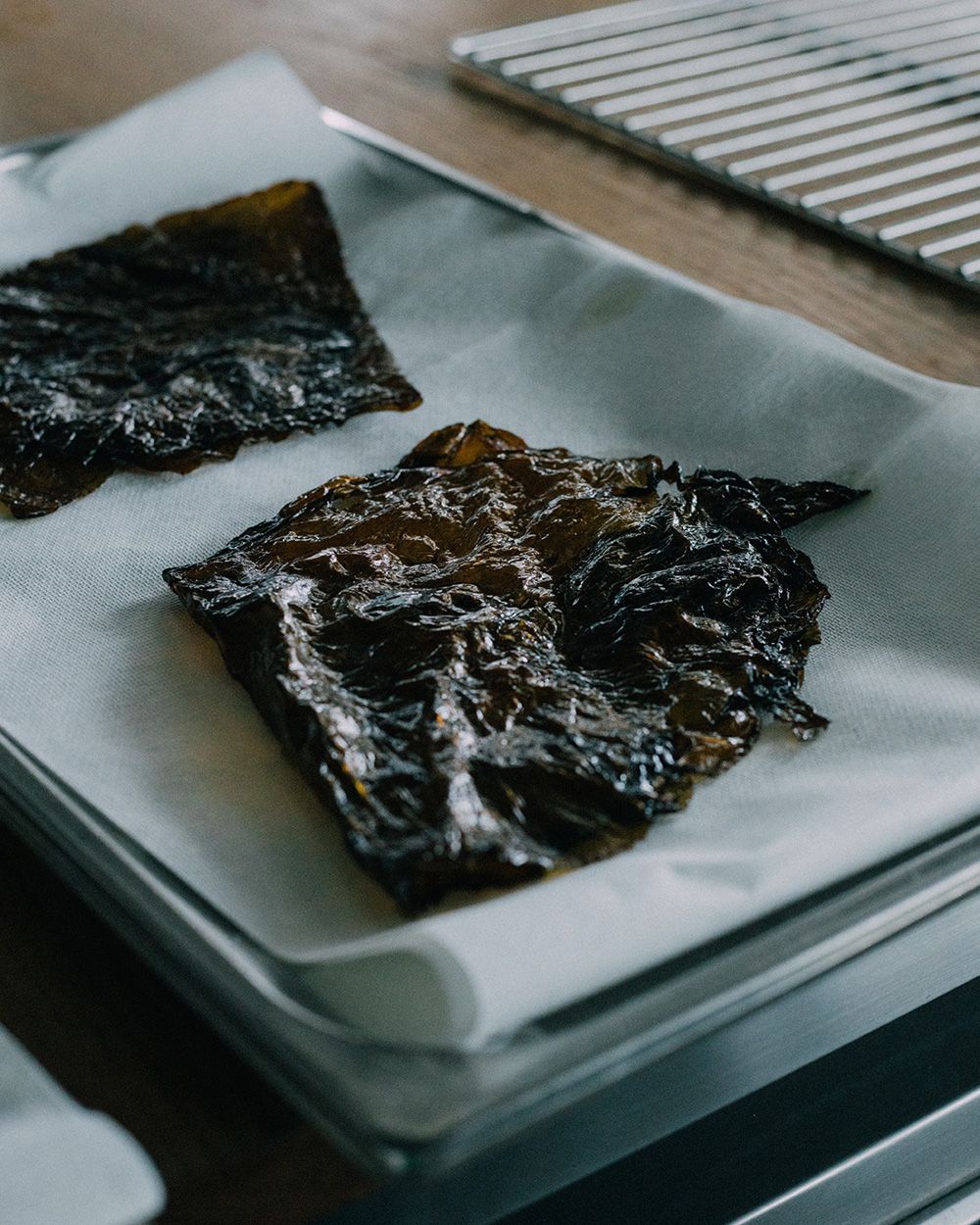 To Plate
Line up 4 sheets of caramelized Hirome seaweed. Place a couple of drops of blackcurrant wood oil on each sheet. Zest the green yuzu using a Japanese citrus zester and brush lightly over the seaweed. Place desired amount of whipped double cream on three of the four sheets. Carefully stack the seasoned sheets, cut portions and serve immediately.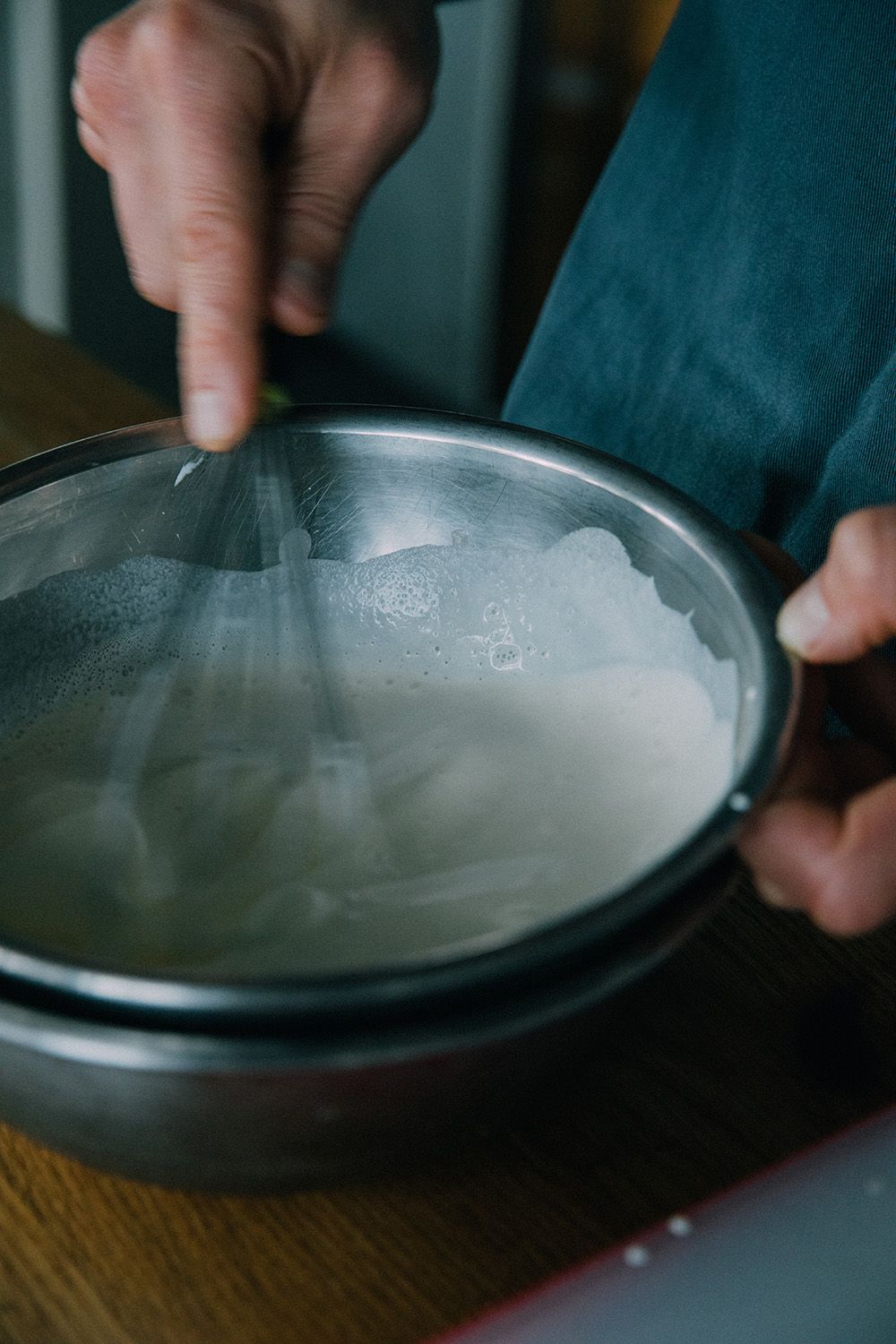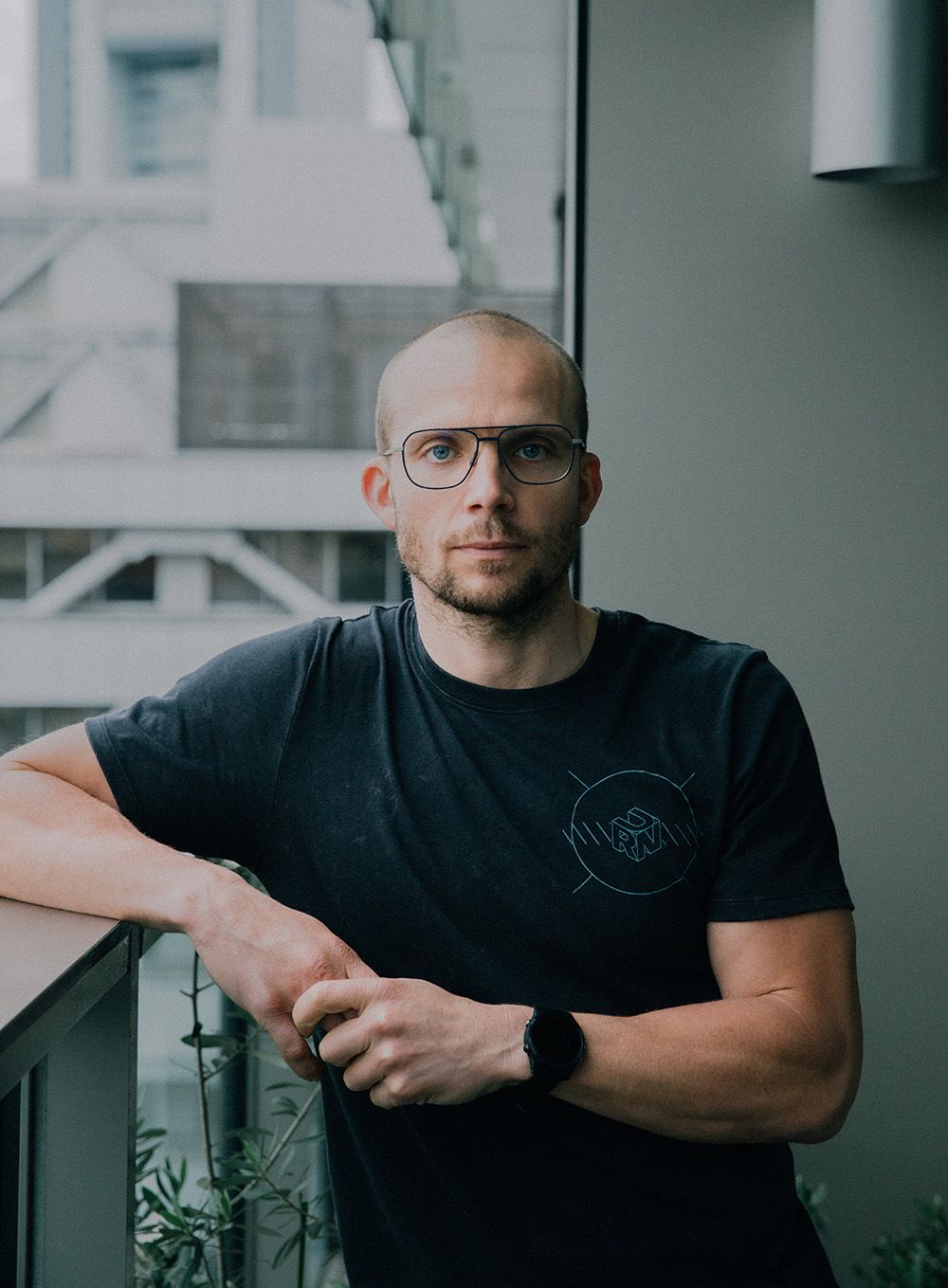 Inua has been closed since April 2020, waiting out the Coronavirus wave. Follow their Instagram and website for updates.
If you liked this article, please consider supporting APPETITE. Your donation will go towards project costs and paying creatives. One-off donations start from $5 via Buy Me a Coffee.