By Sherry Zheng
It's often said that the way to the heart is through the stomach. This photo series seeks out the extent of this truth, recounting significant meals shared by two couples and good friends of mine: Seira and Hiro and Jessie and Sofia. Sharing these meals and tales of encounters, early courtship, and romance, I found they all shared a common love language – food sustains their relationships just as much as it sustains their bodies.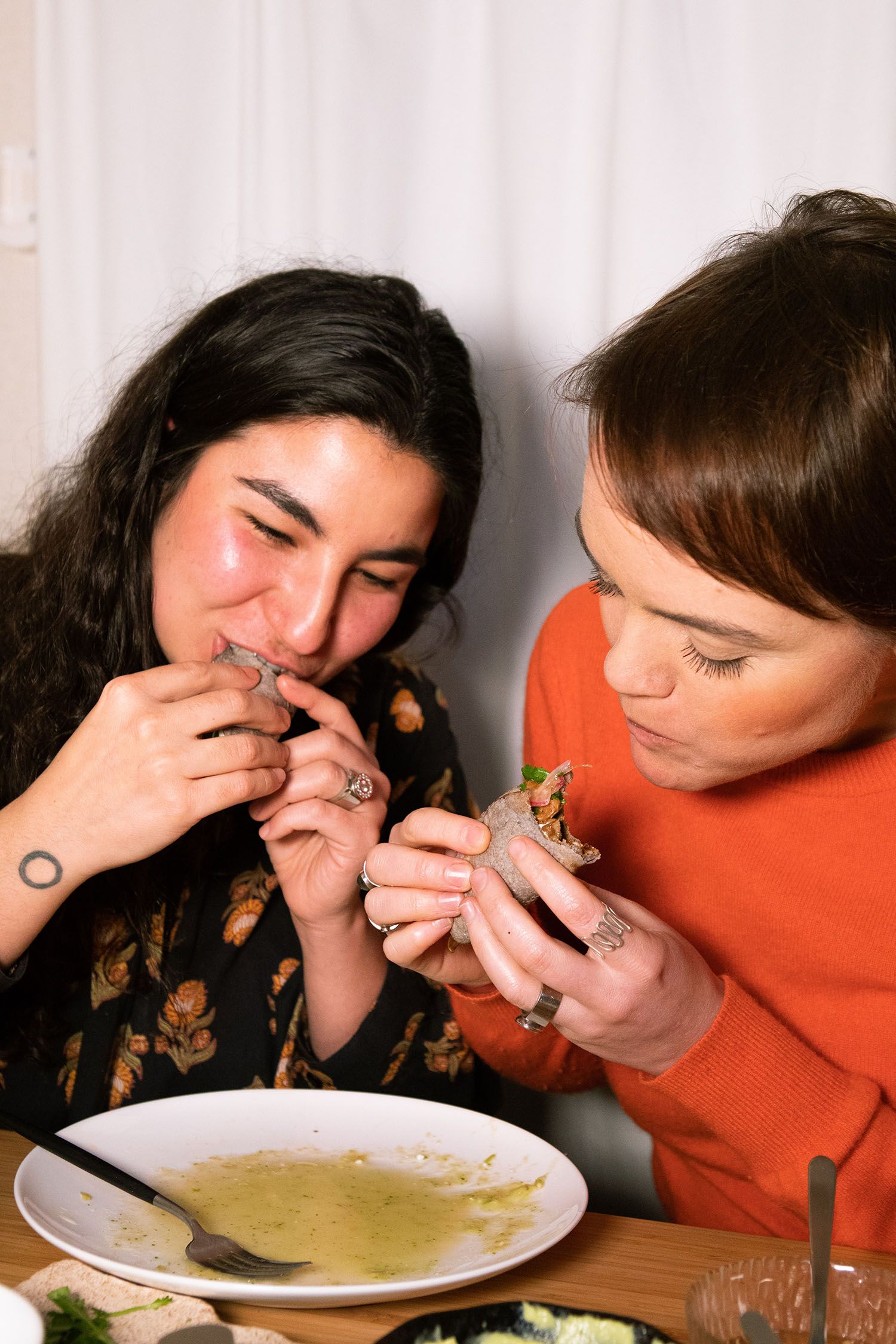 Seira & Hiro: Knee-sized Onigiri
Seira and Hiro met in Brooklyn, where she worked in a cafe and he was manager of the restaurant next door. They only ever really shared conversations during their 15 minute breaks, and it was during these brief pockets of time that Seira's feelings for Hiro blossomed.
Seira explains, "I wanted to get his attention, even just a bit, so I decided to make him onigiri, my speciality. My feelings must have gotten me carried away, because they ended up much, much larger than normal, one was as large as my knee! I gave them to him, and I think I said something along the lines of, 'I know you don't have time to rest, but eat these, ganbatte ne!' ('do your best!')"
"Those rice balls couldn't have come at a better time. I was so busy. I hadn't had a single day off in three months. The first thing I thought was they were huge! That made me so happy. When things finally calmed down, I asked Seira out to return the favor, so I guess those rice balls were really the start of everything," says Hiro.
The two recently relived the experience while making the giant onigiri again in their Tokyo apartment. As they talked, Seira gently folded her fixings through an earthenware pot heavy with fluffy white rice – deep purple yukari (dry red shiso powder), bright green shiso leaves, shio kombu (dried, salted kelp), toasted sesame seeds, honey-soaked umeboshi (pickled plums) and flakes of shakke (salted and grilled salmon). Meanwhile Hiro, a sake sommelier, refreshed a trio of sake cups with a bottle from Seira's hometown, Ishikawa Prefecture. I watched and listened as the homemade meal stirred memories of their first encounter – those rice balls that began their relationship and still fuel it today.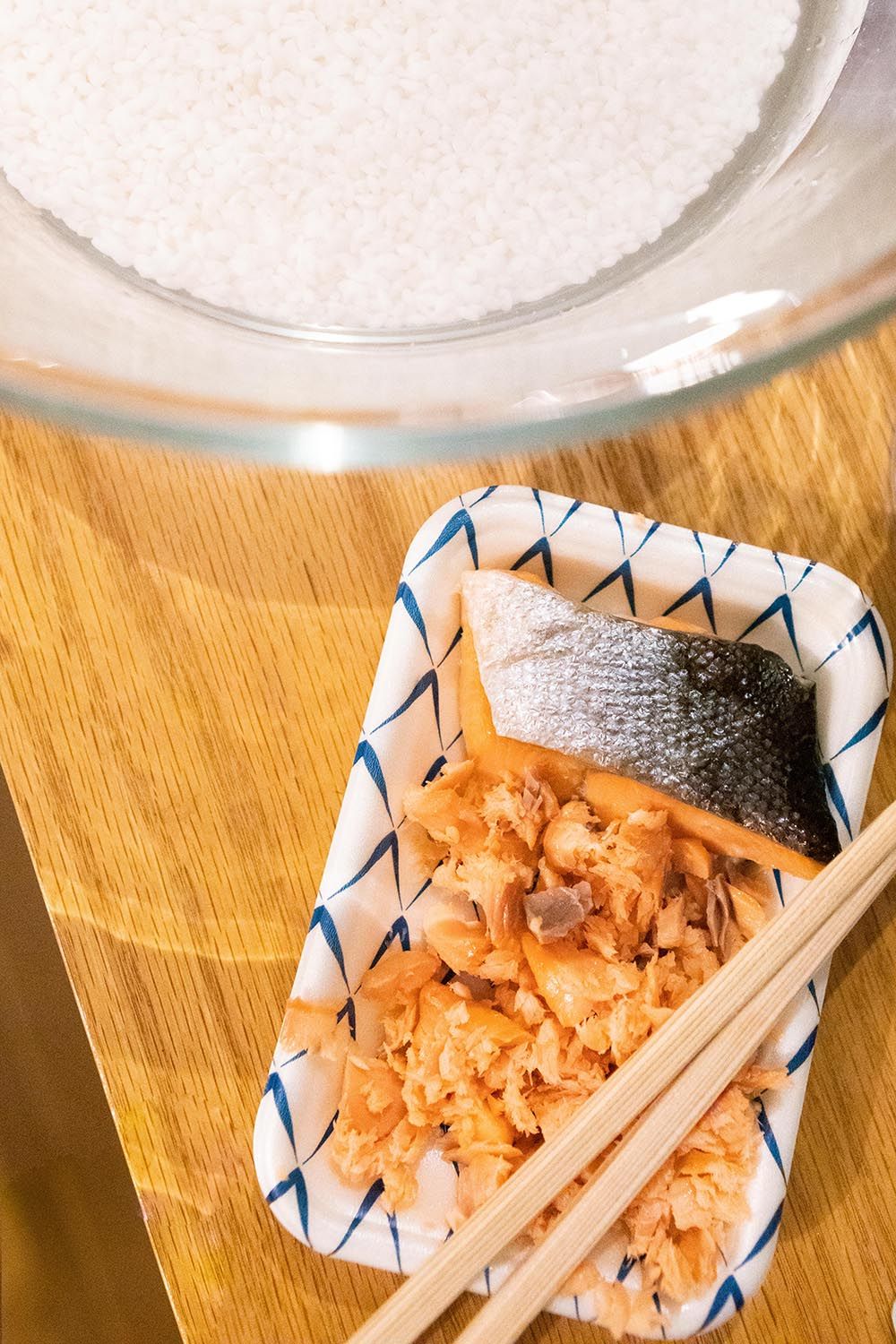 ---
Jessie & Sofia: Tacos
Unsurprisingly, APPETITE co-editor Jessie and her partner Sofia's relationship is layered with memories and experiences that center around food. The two lovebirds met in Japan serendipitously when Sofia was touring the ceramic-producing regions of the country. One Airbnb cancellation eventually led to three more trips to Japan, and one to Mexico, before they were reunited for good late one Tokyo summer.
Sultry, humid Tokyo was an appropriate setting for their reunion – Jessie, from the subtropical Australian state of Queensland, and Sofia, from the equally sunny city of Guadalajara in Mexico. The two have endured gruelling spans of distance, but now spend a lot of time in a kitchen that barely fits both of them side by side. One hand balls up pale periwinkle-blue masa and the other squeezes it between a cast-iron press. Another receives the thin sheet and slips it onto a smoking hot pan.
Though most of their memories were made in Tokyo, fresh corn tortillas, a staple of any Mexican table, have become a common sight in their Meguro household. "I think tortillas are in my veins, they are! Making fresh tortillas is bringing home to us. Jessie is part of what home is now," says Sofia.
Jessie beams at her wife with full cheeks, as both hover over a shared plate to catch the juices from their palm-sized tacos. "Tortillas are deeply connected to Sofia's roots and soul, so I feel eating them together brings us closer."