Light and creamy, this dish celebrates sesame-harvest season in Japan.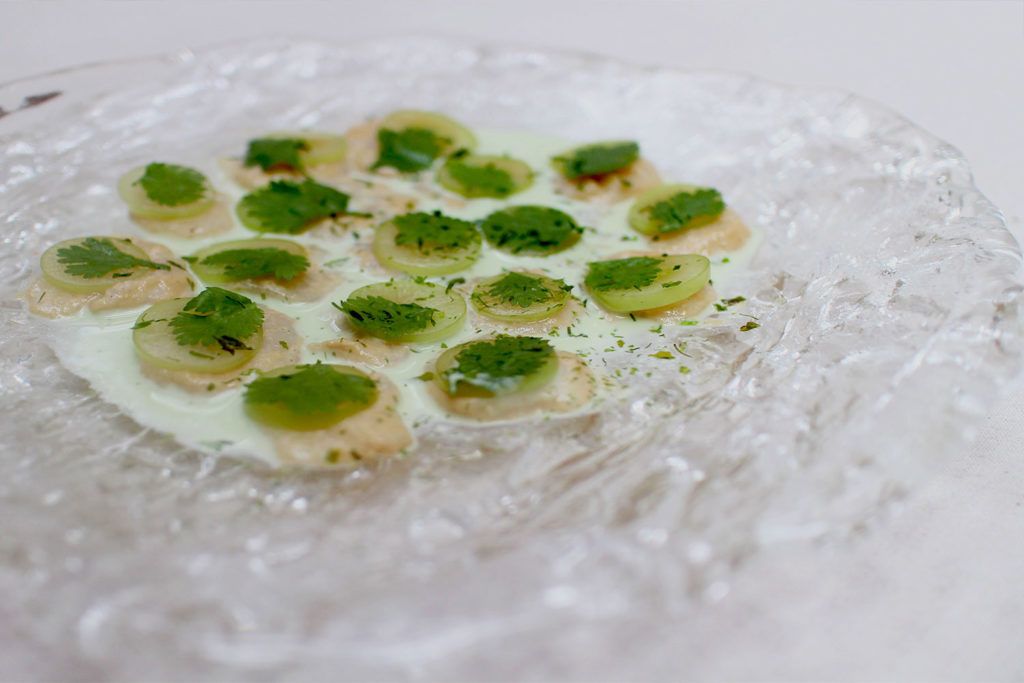 Serves 4

6 scallops, sliced into 2mm-thick rounds
green grapes, sliced into 1mm-thick rounds
40g roasted sesame seeds
1/2 small garlic clove
20ml soy sauce
40ml water
small bunch of coriander stems
1/2 tsp aonori (optional)
4 tbsp sour cream
40ml milk
salt
coriander leaves, to serve
lime, to serve
To make the sesame sauce, combine all ingredients in a blender and blend until smooth. Transfer sauce to a bowl and toss through scallops. Refrigerate for 10 minutes to marinate.

To make the coriander milk, combine the coriander stems, sour cream, milk and aonori in a blender. Blend until smooth, then strain, discarding the stems. Add a little salt to the reserved mixture, if needed for balance, then refrigerate until needed.

To serve, arrange scallops on a plate. Top with a slice of grape and a coriander leaf. Pour the coriander milk around the scallops, and serve immediately with wedges of lime or a sprinkle of Tajin (a citrusy Mexican condiment).